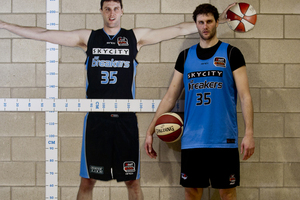 There aren't many people Alex Pledger looks up to but Luc Longley is one.
At 2.15m, Pledger is the tallest person in New Zealand sport but gives up 3cm to the former Australian basketball centre. It's more Longley's achievements in winning three-straight NBA titles with the all-conquering Chicago Bulls of the mid-1990s, however, that capture Pledger's attentions.
It's why he spent a couple of days in the ANBL off-season at Longley's house in Perth getting tips from the 43-year-old who is an inductee in the Sport Australia Hall of Fame.
They talked basketball, on and off the court, watched tape of Pledger play and even spent time on Longley's half-court basketball court at his home.
It was something organised by Breakers coach Andrej Lemanis, who also works as Australian Boomers assistant - Longley also helps out from time to time - and has left Pledger excited about next week's first game of the new season against Perth.
There was plenty for the 25-year-old to look forward to anyway. It was signalled even before the end of last season Pledger would be their premier big man, leaving little room for popular import Gary Wilkinson who has since played in the Estonian and Puerto Rican leagues.
There are even many, including Lemanis, who believe Pledger will be the ANBL's best centre this season.
"Absolutely he can," Lemanis says. "He's got an unbelievable future in front of him. It's very exciting. Hopefully we will really see him blossom in a different role."
Longley has given Pledger some tools to achieve that.
"He gave me a few pointers and said it's a pretty long season and there are going to be highs and lows," Pledger says. "He came up with some things to get me through he rough patches because everyone has them. I feel ready and can't wait for the first game.
"He has a little half-court [basketball court] at his house and showed me a couple of things on-court that have been quite effective. I will always have them at the back of my mind. We watched a lot of tape of games from last year and areas he thinks I can be better. It was very, very worthwhile.
"It was great for me. We have great coaches at this team but they were all point guards. Hearing that stuff from a three-time NBA champion centre, it just means that little bit more."
Longley was a member of one of the greatest sides assembled, playing alongside the likes of Michael Jordan, Scottie Pippen and Dennis Rodman as they won three-straight NBA titles with Chicago.
The Breakers are chasing their own three-peat and, while not on the same level as the Bulls of yesteryear, have a squad capable of achieving that.
Wilkinson's departure and Pledger's ascension to the starting five will see them make a few changes to the way they play the game - they will look to play more inside channels rather than rely heavily on their outside shooting - and it's Pledger's success which will help define how well they go.
That, clearly, comes with considerable pressure and expectations but it's something Pledger feels ready for. He's had the chance to come to terms with that after some initial anxiety.
When he was in the starter's team at practice, he caught himself: "Wow, I'm actually here," he remembers thinking.
When he was announced for the Breakers' first pre-season game in Christchurch, he caught himself again: "Wow, I'm in the starting lineup."
It would be wrong to suggest, however, Pledger will be overawed. He goes by the nickname Chief for good reason and after three seasons in the ANBL is comfortable with what will be thrown his way.
"I have done a lot of work in the off-season to prepare and, for the most part, had a pretty effective pre-season," he says. "I just need to make sure I carry over that form and confidence from last season."
Last season he showed improvement in all areas of his game. He averaged more minutes (15), more points (8.6), more rebounds (5.3) and was more effective shooting from the floor (58.7 per cent) than the previous year. He also became more of a presence, as he understood how he could use his size to greater advantage.
Pledger still wants to improve his communication on defence - centres usually protect the middle, meaning they can see everything - and it's something Longley was skilled at.
Longley also did well financially and in 2009 was worth an estimated A$35 million, putting him in the top 10 of Australian celebrities. He even once paid $2900 to name a new species of shrimp after his daughter (he called it lebbeus clarehanna after his daughter Clare Hanna Longley).
It's not known if Pledger has supported marine conservation efforts, one of Longley's passions, but hopes he now has a few more tools to hook onto a more lucrative career.
Play Jimungo Virtual Basketball
Compete for prize money and bragging rights in Jimungo Virtual NBL. Simply choose the winning team and margin. Sign up now.
- APNZ