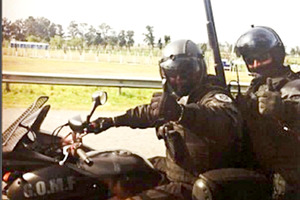 Dressed in black and carrying tear gas guns, pistols and batons, the All Blacks' police escorts ride their motorbikes on the streets of Argentina's capital city with the swagger of a character in a Mad Max movie.
About 10 of the special armed police, two to a bike, escort the All Blacks' double decker bus to and from daily trainings at St George's College, a private school in the Quilmes suburb on the outskirts of Buenos Aires. Also on the protection beat are two more traditional police officers, dressed in blue, each on their own bike.
The men in black are the ones who hold the attention. Weaving in and out of the heavy traffic, it is their job to clear a path for the bus, which the enforcer on the back of the bike does with a stern look or a sharp tap on the side of a car with a long rubber baton if the driver doesn't respond quickly enough.
The guns are held ready as the bus makes its way through one of the shantytowns near the school, which is based in more of a middle-class area.
Once inside the gate and high walls of the school, they relax, posing for pictures with All Blacks supporters.
Even after the routine was completed on the second day of their stay, the players were still intrigued by the police and their hardware. So used to being asked for autographs or photos, the players were the ones wanting handshakes or pictures. Lock Luke Romano, a keen hunter, inquired as to the nature of the snub-nosed weapons which resemble shotguns. "Gas," was the short reply.
"They certainly get the job done," said coach Steve Hansen, a former policeman.
"The two guys in blue don't get much respect but the guys in black certainly do. They had the boys in hysterics today on the bus, using those big rubber batons smacking cars. It turns a 30-minute ride into a 10-minute one."
Loose forward Victor Vito added: "The police entourage is something new. That's probably something else we've had to get used to."
Once off the bikes, the policemen are wary, but amiable. On them, they do not suffer fools. Or slow drivers.
Patrick McKendry flew to Argentina courtesy of LAN Airlines (www.lan.com).
- APNZ