Kiwi cage fighters win and take the first step on a road they hope will lead to a successful professional UFC career, in the final of a 3-part series.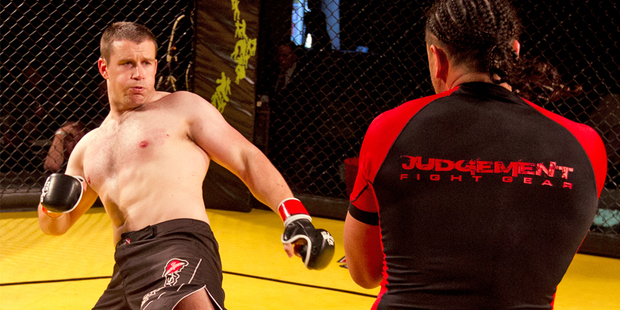 His lightly-gloved fists are clinched purposefully together as John Vake appears from a cloud of dry ice-inspired smoke and walks down the runway towards the imposing black cage in the middle of the North Shore Events Centre.
The 21-year-old's head is down, staring at a point on the ground that stubbornly remains about 3m in front of him. There's no sign of the polite, smiling kid from West Auckland the Herald met two nights earlier. Flanked by coach Steve Oliver and gym-mate Brandon Ropati - the fellow pro he idolises - Vake clearly means business.
Unlike boxing, where all manner of hangers-on enter the ring and mill around for the interminable introductions, MMA fighters enter the cage alone. In a curious ritual that turns out to be a check to make sure they are not covered in Vaseline, the fighters are fully frisked before they enter the cage. The fighters routinely hug the members of their entourage before heading up the steps. In earlier bouts involving less-experienced fighters, these exchanges resemble wharf-side troop ship farewells. For some, heading into the cage is clearly an emotional venture.
For Vake, it's just another day at the office. It's his fourth fight, second as a professional. He's fighting a Tahitian kickboxer with an impressive record. A wrestler who has switched to Brazilian ju-jitsu, Vake's game plan is to take his opponent off his feet and dominate the fight from the ground. He executes it perfectly, submitting opponent Raihere Dudes with a rear choke early in the first round, having barely had a hand or foot laid on him.
When the tap-out comes, Vake explodes in celebration and races to Oliver and Ropati. He's still pumped as he exits the ring, although the smile is back.
"It really meant a lot to me, it was my first international fight," he says.
Still undefeated and making it look easy in the process, Vake is in no doubt where he wants to go.
"The main goal is the UFC," he says. "If you're not in it to be in the UFC then get out of here."
Tougher contests surely lie ahead, but to Vake the MMA world must appear there for the taking.
In truth the three international contests are a bit of a let-down. The Tahitian kick boxers' skills don't match up well with the Kiwis' all round MMA style.
"Eight times out of 10 a good grappler will tie up a good stand up boy, tear him off his legs and beat the s*** out of him," says fight sports commentator Mike Angove, himself a former champion kickboxer. "Two times out of 10 we'll land a good shot coming in that will knock them out. In other words, if you don't know what you are doing on the ground you are f*****."
Vake's gym-mate Phil Brown has been told his opponent has pulled out of their fight. It's a devastating blow for Brown, who has trained hard and at 37 knows he doesn't have too many fights left in him.
"I'm bloody destroyed," he says. He is offered the chance to take on an opponent from a higher weight class, but last time he did that he got knocked out, so it's not worth it. Instead his sons Kaige and Jaeden - junior world BJJ champions - put on a demonstration fight. The 6- and 7-year-olds could be any two little boys wrestling, except they have some serious skills and the level of control is impressive.
The fight card ends with a spectacular 13-second knockout in the heavyweight title fight followed by a tame submission from the final Tahitian fighter. By that stage the crowd has thinned a little. There seemed to be as much interest in the A and B class fights as the pro bouts.
Ex-soldier John Harvey's introduction to MMA turns out to be a contentious affair. If Harvey is nervous before the fight he doesn't show it. He enters the cage with a minimum of fuss and then sets about much larger opponent Lyle Kerekere with a series of powerful leg kicks. But Kerekere is a tough cookie. He fights back with kicks of his own and the round ends on an even footing.
Midway through the second round Harvey's superior fitness is starting to tell. Kerekere hangs in gamely. An explosion of punches late in the round probably tips it Harvey's way. The third is pretty much one-way traffic. Harvey concentrates on punching, but he can't put Kerekere away. It's a close fight, but Harvey has probably edged it. When Kerekere is announced as the winner by split decision it's a surprise.
His celebration doesn't last long. There's been a mix-up and when the judges are consulted Harvey is declared the winner.
"[The announcer] came up to me and said 'you actually won but I'll announce it later'," says Harvey. "I said 'f*** off, announce it now'."
Kerekere's fans aren't happy at the reversal but Harvey's career is under way with a win and he has come through unscathed. "It was awesome," he says of the experience.