NZ camp raise fears about Duckworth-Lewis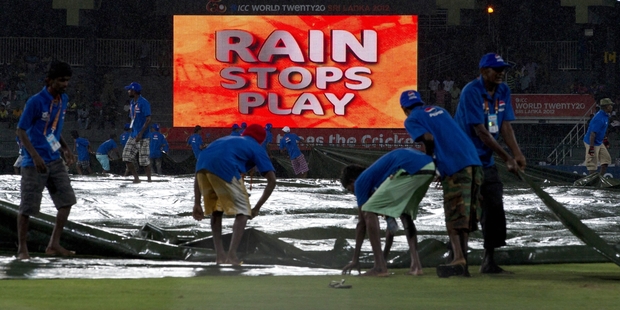 The World T20 faces the threat of increased Duckworth-Lewis Method intervention with early monsoon rains lashing Sri Lanka.
The rain is forecast to affect New Zealand's Super Eight matches against Sri Lanka, England and the West Indies. Each of those games is scheduled to be played in the central highlands at Pallekele.
According to local meteorological websites, rain is expected on six afternoons out of the next eight.
The seasonal rains were not expected until later next month but have already truncated matches in Colombo and Hambantota, including a farcical seven-over-a-side affair between the hosts and South Africa.
The forecasts raise two issues: why was the tournament scheduled so close to the monsoon season; and is the DLM capable of crunching the numbers fairly in T20?
The International Cricket Council has defended its scheduling, saying there was no other available period to play the games in their Future Tours Programme. Curiously, a number of games at the most recent World T20 in the West Indies during April-May 2010 were played in Guyana as that country too headed into its peak rain season.
Sri Lanka has organised just one international series in the month of October since gaining test status in 1982. That was a five-match ODI series against England five years ago in which all matches were completed.
However, the 2002 Champions Trophy final in Colombo was affected by rain on September 29 and the reserve day, meaning India and Sri Lanka shared the title.
The Super Eight round of the World T20 starts tomorrow, semifinals are on October 4 and 5 and the final is on October 7.
There is a perception in the New Zealand team that the DLM does not cater well to T20 cricket in its current format. Coach Mike Hesson says any sign of rain means the tables favour the side batting second.
"Against Bangladesh we wanted to bat first but then looked over the back of the ground and saw the clouds building. To be fair, the Duckworth-Lewis Method and T20 cricket just don't work together. The side batting second has such a distinct advantage that [had we won the toss against Bangladesh] we would have considered chasing just for that reason. At the moment they use the same formula for both formats [ODI and T20] which completely undervalues a wicket in T20."
Andrew Alderson flew to the Twenty20 World Cup in Sri Lanka courtesy of Emirates Airline (www.emirates.com/nz).