Steve Deane traces the roots of mixed martial arts and looks at its place in the sporting landscape, including a close-up look at the burgeoning local scene.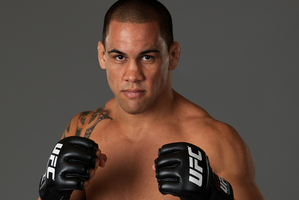 "Mate, don't you feel pain?"
It's a question that just has to be asked of James Te Huna, the 30-year-old from Te Kauwhata who has made waves in the UFC with four spectacular victories from his five fights.
Having grown up tough in the small Waikato town - "my old man brought us up hard, he liked to fight" - Te Huna now makes his living the hard way.
Early on in his first UFC fight against Igor Pokrajac, Te Huna blocked a head kick with his forearm. His arm snapped, but he fought on, knocking out the Croatian veteran in the third round. The victory made an impression on the UFC's powerbrokers, but Te Huna was out of action for the best part of a year while his arm healed.
He lost his return bout in a first-round submission, then, in training for his next assignment, he dislocated a finger two weeks before the fight, and couldn't form a fist with his left hand.
A couple of days out from the fight he tore a ligament on the finger of his right hand, so he couldn't form a proper fist with that one either. He still fought, and won with a first-round knockout.
In his latest fight in July he smashed his hand so badly his knuckle recessed, and also broke a foot. Again, he fought on and won.
Pain has a way of following Te Huna. One day he was walking to training in his adopted home of Penrith when a plate-glass shop window popped out of its fitting and fell on him. The freak accident saw him taken to hospital with cuts to his neck and back. It was captured on CCTV, and featured on the Australian national news.
Te Huna recalls those tales with a chuckle, then laughs outright when asked about his superhuman pain threshold.
"I feel it, man. A lot of people say, 'Well, the adrenaline must be going inside his head or something,' but I feel every single bit of it. I've just got a really good poker face."
Te Huna is one of just two New Zealanders in the UFC's 350-strong stable of fighters (the other is kick-boxing veteran Mark Hunt). He didn't get there by accident. His family emigrated to Australia when he was 16. He had taken up boxing at 14 but had really only dabbled in MMA. Then he came across Hunt, who had just won the K1 kickboxing grand prix. Hunt's success lit a fire under the impressionable Te Huna.
"I grew up from the same background he did. He went from that to best in the world, making lots of money and being successful. I thought, 'If he can do it, why can't I?'."
When he heard the UFC might be coming to town Te Huna devised a plan to earn a spot on the event's undercard. If he could win an eight-man tourney and claim the CFC [Cage Fighting Championship] title he would be on the UFC's radar.
"At the time I was working as a bricklayer. Before my first fight I quit my job and borrowed money off my friends and family to get me by each week so I could train as a professional. I won my fight and paid everyone back. It was a bit of a gamble. If I didn't win the fight I don't know where I was going to get the money from - go back to bricklaying and work some overtime, I guess."
He repeated the cycle for his next fight, and the next after that against Australian UFC fighter Anthony Perosh.
"I won the title, I beat a UFC veteran and I had a win streak, so I had three things going for me."
It was enough. The UFC picked him up. Te Huna had cracked MMA's big time.
"That brought along sponsors and everything else. Now I can actually train as a professional."
He knows other fighters with good records who haven't been as fortunate. In the UFC, entertaining is just as important as winning, and Te Huna's never-say-die style is box office gold.
"You've got to bring it every time you go there," he says.
Te Kauwhata's other famous citizen is Trevor the Lotto winner. "Mum told me about that, he'll be able to buy the town now," laughs Te Huna. With UFC fighters pocketing between US$50,000 and US$200,000 a fight, Te Huna has also struck gold. He reckons he can fight until he's 38 and, like Trevor, set himself up for life. He might be doing it the hard way, but it beats being a brickie.
"Definitely, man. I do not miss that job."
Tomorrow
We follow John Harvey, John Vake and Phil Brown as they step into the Octagon.