Steve Deane traces the roots of mixed martial arts and looks at its place in the sporting landscape, including a close-up look at the burgeoning local scene.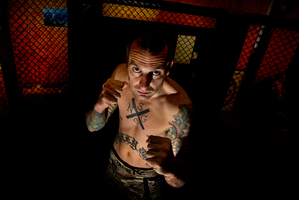 A rifle shot rings out across the Specforce gymnasium in central Auckland.
The place is run by former SAS physical trainers, but there are no guns around. The sound comes from John Harvey's right leg whacking into a pad held by his trainer Kaota Puna. The force that Harvey, a 24-year-old former "grunt" who quit the army last year after completing his final deployment with the PRT in Afghanistan, delivers is remarkable.
It's just after midday on a Wednesday. In the main gym a crowd of corporate types push themselves through a punishing circuit while, off in a side chamber, Puna is putting Harvey through his final paces ahead of his first MMA bout, scheduled for Saturday night on the North Shore.
For a first timer, Harvey looks dangerously competent. Up close, his striking power is impressive. When he talks to the Herald he's a ball of nervous energy, his right leg tapping furiously for the duration of the interview. It's hard to tell if its pre-fight nerves or discomfort at talking to a reporter at work, most likely a bit of both.
"I'm feeling pretty good," says Harvey. "On the day I'll be a bit nervous but I've been doing plenty of training and I am confident in my ability."
He has been at it only a couple of months but, if things go well, he'll pursue a career as a pro. He saw MMA on TV, tried a bit of ground fighting with Specforce owner Dan Temple and "fell in love with it". He doesn't know much about his opponent, other than that "he's a big Maori guy".
Harvey is fighting in the 100kg class but at around 92kg "he's too light", admits Puna. His opponent, Lyle Kerekere, is at least 100kg.
"He's not going to whinge about it," says Puna. "When you're used to shooting at people and getting shot at you're not going to whinge about giving away a few kilograms."
In West Auckland the following night, Steve Oliver is instructing a class of 13 men and three women in the finer points of Brazilian jiu-jitsu. The son of weightlifting legend Don, Oliver is a hulking figure who looks like he spends his spare time bending iron bars into amusing shapes.
He travelled the world as a BJJ fighter and trainer, and is now back at his Glen Eden home riding the wave of MMA's surging popularity. Among his students is John Vake, a smiling 21-year-old local with a swimmer's physique and impeccable manners.
A former college wrestler at Kelston Boys High, Vake is a ground and pound specialist.
"I try to break their will in a fight," he says, the smile never leaving his face. "Get them gassed, punch them out. There is nothing worse than getting tired and someone dropping elbows and punches from the top. Once I can break his will I can either get a stoppage or the submission will come."
In two days Vake will take on a Tahitian kick boxer with an impressive record. It will be his sixth fight and second as a pro. He's never lost, and doesn't expect that to change any time soon. He's not nervous, there's no time for that. "They are going to close the cage then you've got 15 minutes to do whatever you want to each other," he says. "When it's on it's work time. I feel like Muhammad Ali in there. That's the mentality I have to go in with, that I'm the greatest. The moment I second-guess myself will be the moment I lose."
Also fighting on Saturday night is 37-year-old transport manager Phil Brown. Fighting is a family affair for the Browns - Phil's sons Kaige (6) and Jaeden (7) are junior BJJ world champions. The training is getting harder and harder for Brown, who works a 60-70 hour week, but he still loves the fighting. He's 4-3 as an A-class amateur, but is looking to bounce back from a knockout defeat. In that contest his scheduled opponent pulled out, so he stepped up in class.
"I was doing pretty good, I thought," says Brown. "I went in for a takedown and got hit with a short right upper cut and it was all over. It was the first time I've been knocked out in the ring."
Brown estimates he was unconscious for 15 to 20 seconds, but described the experience as painless.
"I didn't feel anything, not even a sore jaw."