Hesson says batting change was meant to break up the Pakistanis' rhythm.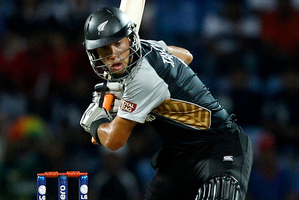 Coach Mike Hesson has defended the decision to shuffle New Zealand's batting order in their opening two games of the World T20.
In the 13-run loss to Pakistan, captain Ross Taylor (batting six), Daniel Vettori (at four) and Kane Williamson (opening) each played in their respective positions for the first time in T20 internationals. James Franklin oscillated from being centurion Brendon McCullum's wingman when opening against Bangladesh, to scrambling for runs at No 7 against Pakistan.
The batting order's unveiling was like watching cricket's version of It's In The Bag. The initial result was a booby prize.
As the team's Selwyn Toogood, Hesson says such moves are the result of meticulous planning.
Taylor's shift to No 6 was most perplexing. He is arguably New Zealand's best T20 batsman, being paid in excess of $1.2 million a season to demolish attacks for the Delhi Daredevils in the IPL. Why would Daniel Vettori be preferred at four?
Hesson says the move was designed to break up the Pakistani bowling rhythm with left-hand, right-hand combinations. But the fact Taylor didn't appear for a further 7.5 overs defeated the purpose. He eventually made 26 off 11 balls before being run out. It raised questions over what might've been had he come in earlier.
"Ross and I discussed it at the time and before the game," Hesson said. "When we had lost two wickets by the start of the seventh over we wanted a left-hander in, especially with a short boundary for them on one side. When Dan got out we needed a significant run rate so Jake was sent in."
With hindsight, Taylor admitted he should have gone in earlier.
"I was tempted but we had a game plan and wanted to stick with it. Sometimes when those things come off you look like a genius; when they don't, questions are asked. I'm sure I won't be batting that low again."
Hesson said Franklin would play down the order for the rest of the tournament.
"The Bangladesh situation was a one-off against three left-arm spinners ... With Pakistan bowling their spin late, we felt it was better to have experienced guys like Jake [Oram], Ross [Taylor] and Frank [Franklin] in the middle order rotating the strike."
Hesson was comfortable with the decision to open with Williamson.
Andrew Alderson flew to the Twenty20 World Cup in Sri Lanka courtesy of Emirates Airline (www.emirates.com/nz).