Powerful Hastings effort shows age has not dimmed popular 8-year-old's fighting spirit.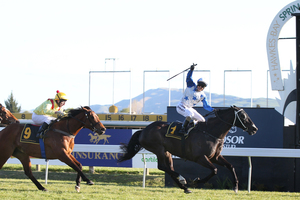 There was no dropping the whip this time.
That's apart from the numerous times Sam Spratt dropped hers on Mufhasa's bum in the home straight on the way to winning Saturday's $200,000 Windsor Park Plate at Hastings.
An historic 10 group one wins on the board and Sam Spratt was so determined to make amends for dropping her whip on Mufhasa last start that she gave the impression if she thought she could have run faster than the horse she was astride, she'd have jumped off and run to the finish line herself.
No one blamed her - this was a magnificent occasion.
Mufhasa joined just 29 horses worldwide in the past 110 years to have achieved 10 or more group one victories.
16 wins: John Henry (USA), Kauto Star (FR)
14 wins: Affirmed (USA), Forego (USA), Goldikova (IRE), Istabraq (IRE), Kingston Town (AUS)
13 wins: Moscow Flyer (IRE), Spectacular Bid (USA), Sunline (NZ), Tie the Knot (AUS), Zenyatta (USA), Bayakoa
12 wins: Black Caviar (AUS)
11 wins: Affirmed (USA), Serena's Song, Cigar (USA), Hurricane Fly (IRE), Lady's Secret (USA), Lonhro (AUS), Manikato (AUS), Rough Habit (NZ)
10 wins: Beef or Salmon (IRE), Big Buck's (FRA), Brave Inca (IRE), Dahlia (USA), Miesque (USA), Skip Away, Paseana (ARG), Octagonal (NZ)
There are now nine on that list that are Australian and New Zealand bred.
And the greatest excitement around this is that Mufhasa has not finished yet. He is about to embark on the same campaign trail he followed last year with the Toorak Handicap in Melbourne, Trentham's Captain Cook Stakes and February's Waikato Draught Stakes at Te Rapa.
If Mufhasa wins just two of those - and the two New Zealand races look gimmes in his current form - there will be just 13 horses in modern history - if you can call 110 years modern - to have won more group one races.
New Zealand and Australian horses are also over represented on the international list of most wins in a season, a list which excludes bush and picnic racing.
21 wins: Fisherman, (USA), Picnic In The Park (AUS), Top Ace (AUS).
19 wins: Citation (USA), Camarero (Puerto Rico), Roseben (USA), Rapid Redux (USA).
16 wins: Provideo (USA), Timeless Times (USA) Sweetmeat (GB).
15 wins: Mainbrace (NZ), Old Rosebud (USA); Round Table (USA); Pan Zareta
14 wins: Ajax (AUS), Desert Gold (NZ), Phar Lap (NZ), Tulloch (NZ)
13 wins: Gloaming (NZ), Grey Way (NZ), Spindrifter, Uncle Remus (NZ)
12 wins: Kingston Town (AUS), Surround (AUS)
11 wins: Man o' War (USA), Poseidon, Proud Miss, Soba, Vindaloo
10 wins: Bernborough (AUS), Carbine (NZ), Cigar (USA), Kindergarten (NZ), Rising Fast (NZ), Trafalgar, Tom Fool.
Mufhasa's win wasn't a walk in the park for him -he had to be very brave.
He raced too fiercely for his own good down the back straight and Sam Spratt admitted later she had been worried. The fact he could hold out the others significantly, if not comfortably, indicates the depth of heart in that magnificent chest.