Crusaders coach helps convince skipper to stay in contention for 2015 World Cup.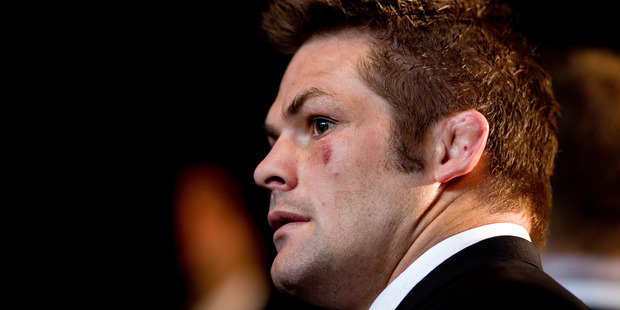 As Richie McCaw poured the tea, Crusaders coach Todd Blackadder casually asked him how he was going to last through to the 2015 World Cup.
That inquiry several months ago in a suburban Christchurch house prompted a variety of ideas, with McCaw acknowledging he needed a significant break from all rugby if he was going to play in his fourth tournament.
The broad plan is for the All Black captain to play until the end of this year then take six months off, with a likely return to Super 15 action after the June internationals.
"He could do with a break, he is an older athlete and the rugby landscape is so congested now," Blackadder said.
"Our chat was as much about our friendship as our coach-captain working relationship."
Similar themes were part of a recent chat sports agent Warren Alcock had with McCaw as they sifted ideas on how to prolong the flanker's 110-test career.
"I'd watched him play like a man possessed against the Wallabies in Sydney but said, 'You can't keep doing that'. He agreed; physically he needed a break," said Alcock.
Between those two conversations, McCaw nutted out some ideas on how he could prolong his career and the best way to invoke the sabbatical clause in his NZRU contract.
When he sat down with Alcock, they worked out a strong framework and involved the Crusaders and NZRU in settling on the finer details.
"The intention is that Richie will recuperate, go off and do his own thing for some time without any rugby," Alcock said. "When he returns, the idea is that he will start his conditioning work and if that works out, look at some Super rugby after the June test window."
The Crusaders will name McCaw in their Super 15 squad but want a dispensation from Sanzar and assistance from the NZRU, so they can name an extra loose forward and sort out the financial implications.
If McCaw is named in the original squad, he remains eligible for the playoffs if the Crusaders qualify and need him. If he is only contracted when he resumes, he would not complete the four games needed to be eligible in the playoffs.
McCaw has played all seven tests this season and if he plays each remaining test he will rest after his 117th international against England at Twickenham.
"It was an easy decision for us to agree but there are a few technical issues about what's best for Richie in his return," NZRU chief executive Steve Tew said.
"He'll likely help out the All Blacks, their new captain and No7 in June and play some club rugby to get ready for his return."
McCaw's interlude will allow him to consider any surgery needed to help prolong his distinguished career. His left knee is strapped heavily and he carries some lingering shoulder issues, although surgery has cured his foot problems from last year.
Just as importantly, McCaw will get some reprieve from the mental demands that escalate each season for the All Black captain.
Outside his growing media duties, he is inundated with requests from schools.
He also has a list of sponsors and commitments to adidas, Westpac, MasterCard and Versatile.
"Richie understands that is all part of the game and that's why he tries to fulfil them," said Alcock.
"His down time is precious and we try and build time away into his schedule. A sabbatical with some time overseas will help with that."