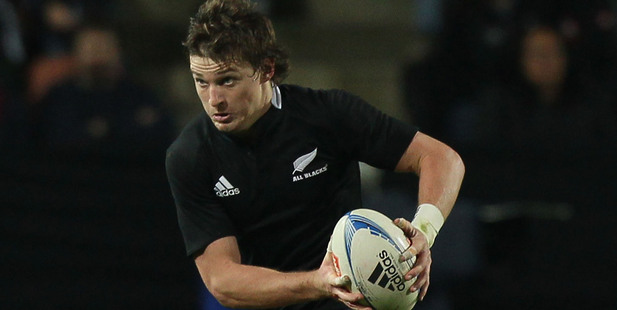 The contrasting fortunes of Beauden Barrett and Gareth Anscombe illustrate that professional rugby is a more ruthless and fast moving beast than often portrayed.
A year ago, Barrett and Anscombe were New Zealand under-20 team-mates, the latter commanding the No 10 jersey which forced the more versatile former into playing at fullback.
Once they returned, great futures were predicted for both, as they brought a touch of class and composure to their respective ITM Cup teams. Barrett was locked into the Hurricanes, the man they were going to trust to lead them to an improved season, while Anscombe was signed by the Blues, seen more as a bench option in 2012 with a view to running things in 2013.
This weekend showed how quickly things can change; how their respective paths have taken dramatically different routes. Barrett was on the plane to Argentina with the All Blacks last night: about the same time that Anscombe was coming to terms with the news that he's been delisted by the Blues and is now looking at spending 2013 with the Hurricanes - effectively carrying Barrett's coat as it were.
The upward trajectory of Barrett's career has been as steep as the downturn taken by Anscombe's. Barrett was in Argentina not just because of doubts about the fitness of Daniel Carter. He is there as a genuine alternative on the bench to Aaron Cruden.
The 21-year-old's kicking game is longer than Cruden's and while there is nothing but admiration and respect for the contribution Cruden has made this year, in the cut-throat world of test football, there is already a sense of Barrett coming up fast on the rails.
It was impossible not to be taken with Barrett throughout Super Rugby: he kicked effortlessly off both feet, ran well, passed well and looked to be the closest thing to a new Carter. Cruden has a trump card with his running game but the last two weeks have shown him to be still someway off being able to control a test with his boot. By next year, or maybe even by the end of this, the pecking order of Carter-Cruden-Barrett may change to Carter-Barrett-Cruden.
And how that must pain Anscombe, who from tomorrow can legally be confirmed as delisted. The Hurricanes, who used the now-departed Daniel Kirkpatrick as cover this year, are believed to be keen. But, unless there is serious injury to Barrett, Anscombe faces a bleak season - 10-minute cameos and the occasional start.
History shows that few last long once they are labelled "back-up" and that's the problem for Anscombe - he plays the game in a style that's not in tune with the way most coaches in New Zealand want to operate.
Anscombe sat in the pocket for the Blues this year - reducing the effectiveness of Ma'a Nonu outside him. It also made the Blues easy to shut down - defences knowing they could close the space by coming up quickly on the outside.
New Blues coach John Kirwan hasn't unveiled his tactical vision for the team yet, but as one of the world's best attacking wings and having tried hard to generate pace and width while coach of Japan, it's a reasonable guess he'll want much the same in his current role.
Anscombe doesn't really fit that vision which is similar to how the Hurricanes want to play as well. This time next year, it wouldn't be a surprise if Anscombe is on his way to the UK. Anscombe looks better suited to Northern Hemisphere rugby and his accurate goal-kicking and astute tactical kicking would be well received there. He's eligible to play for Wales and there is also possibly the option of heading to Ulster, where his father, Mark, is the coach.
Still only 21, if he heads now, he could be qualified to play for Ireland by the time he's 24 as his eligibility was not captured last year. It's not the future he imagined this time last year but it is at least a future that could feature test rugby.