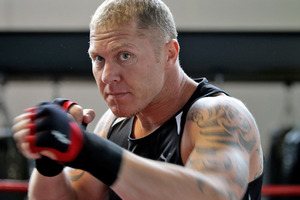 It has been a long road back to boxing credibility for Shane Cameron.
Counted out outside the ring every bit as much as he was in it after being levelled by a furious flurry of David Tua punches in Hamilton almost three years ago, Cameron has felt the cold wind of boxing irrelevance.
Rebuilding his reputation has been a painstaking and - thanks to hands that have a habit of breaking just when he needs them most - painful exercise. But he never stopped believing his shot at redemption would come.
Although Cameron's face in the days after the fight told another story, Tua's destructive punches ultimately made a bigger impression on the public than his defeated foe.
"I didn't get a chance to display what I had," Cameron said. "The public's perception was 'that's me done ...' But I knew I was a better fighter than that - I just needed to prove it." If an impressive late knockout of Dominic Vea in Sydney on a Danny Green undercard was the first significant step of the comeback, the thunderbolt KO of Tua's nemesis Monte Barrett in July was a giant leap back into the big time for the 34-year-old Gisborne slugger.
"It shows you what one punch can do to change the whole radar," Cameron said.
"That put me back on top again and I suppose the public have a lot more faith in me now."
Whether that faith extends to a belief Cameron can overcome three-time world champion Green in Melbourne in November to claim the IBO world cruiserweight title remains to be seen.
The pair have been courting for two years, but the 39-year-old Green's apparent decline and Cameron's return to the heavyweight ranks made it seem likely the relationship would never be consummated.
Now fate has smiled on both fighters, after the stripping of Antonio Tarver for a doping offence handed them a shot at the vacant IBO title.
Green has two major motivations as his career enters its twilight years. He wants to become the first Australian four-time world champion and - after two KO defeats in his last three fights - he wants to make sure the only part of him that touches the canvas is the soles of his feet.
"I've well and truly proved that I am nowhere near past my use-by date," a defiant Green said from Melbourne yesterday.
Tarver had outclassed him to take his title but his defeat to classy Pole Krzysztof Wlodarczyk was a different story. He fought well but got caught by a huge punch late on.
"That punch would have knocked a cow out and I got to my feet before the count got to 10 and tried to go on. I was very proud of that. Although I didn't get the decision I proved to myself a lot of things as a fighter."
Size, power and youthfulness could tilt the scales Cameron's way, but Green has the superior pedigree.
"I don't necessarily think he is stronger and I can tell you now he doesn't have the skill and experience that I possess," Green said.
"But if you look at his last fight against Monte Barrett you can see he is well on his way to doing big things in this sport. Monte Barrett is no mug ... That was a beautiful punch. I've just got to make sure that doesn't happen to me."