In the final part of this roadtrip through rugby heartland, we talk to a Putaruru boy made good about what it takes to be a Chief, a man helping to keep Tokoroa's youth off the streets, and one of the products of the 'Tok' talent factory.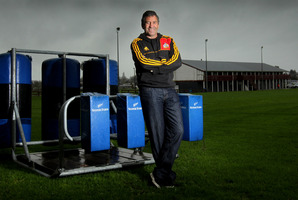 Temperament counted as much as ability when the Chiefs sifted candidates for their playing roster.
Before the Super 15 started and throughout the series, the coaching staff referred to the "good buggers" who made up their group.
They targeted players with character, those who would do extra training without being coerced and help out others who were having problems; blokes who were happy to give instead of taking like so many in the professional rugby world.
"A good bugger on the field will shift bodies or make tackles and get up off the ground," assistant coach Wayne Smith, himself a product of the South Waikato heartland, says.
"Off the field they will prepare well, do the recovery, pick up bags and blow up balls. It is a team ethos, a team character led by Dave Rennie and Tom Coventry."
Those coaches had worked through the ITM Cup competition and knew many of the players well. They also had a superb knowledge about the sort of person needed in the squad.
Loose forward Alex Bradley was one example.
A plumber, father of a blended family of four, a great club and provincial stalwart; his selection in the Chiefs was a dream result for the 30-year-old.
Team-mates called him dad and his contribution was far wider than turning up for his debut year.
He was a busy man outside rugby yet challenged his team-mates, confronted them and made them work harder than they had before.
Bradley applied his practical mind to most aspects of his life and that was a spin-off from his country upbringing.
The Chiefs were a blend of city and country men.
Although there differences, everyone was treated the same and the groups helped each other and learned from each other.
The coaches wanted selfless players, men who were leaders but understood the unified power of a team.
Development officers in the Chiefs area trawl country areas identifying talent. They hold camps and have seen players who show signs, if they continue to progress, that they could make inroads into professional rugby.
Smith and others from the Chiefs will look at ITM Cup and Heartland rugby matches.
"Remember we got Asaeli Tikoirotuma and Michael Fitzgerald from those sort of starts and there is plenty of that sort of talent around," Smith says.
"This sort of identification is down to Dave Rennie more than anyone, but there is a huge community involvement in the whole Chiefs area.
"We have fostered connections in all sorts of outreaches by doing that and in getting around even more, we will get exposed to more of these kids.
"There are more Sam Canes out there."
Rural upbringings delivered young men with a physical edge and that still applied.
There were a few more quad bikes and ride-on lawnmowers these days but the nature of rural communities meant there was still a No 8-wire, roll your sleeves up and get on with it mentality about those men.
The Chiefs had tapped into that and integrated the city boys.
It was easy to distinguish them when the Chiefs were knocking down walls or painting rooms in some of their pre-season work.
It didn't take the city boys long to join in but there was just enough time for the rural blokes to poke the borax at their "soft" buddies.
"It is all part of the teaching and learning environment, country kids know how to solve problems and having that sort of mix has been great for the Chiefs," Smith says.
"I have seen a great deal of growth in a lot of our players who have come here, because of that mentality."
Smith is part of a heady coaching group at the Chiefs, men who have all been teachers and bring different threads and concepts to their planning meetings.
He points to the 1905 Originals, who started the All Black legacy, pioneering men who showed the way for this rugby nation. They were rugged men with an adventurous spirit and those qualities translated well to rugby.
It was a game which suited those who worked outdoors.
Smith's ancestors fitted that description, trawlermen who came out to build Arthurs Pass, then the Arapuni Dam before the Depression came and they went into forestry.
"That is the sort of stock which people like Sam Cane come from."
There had been a shift towards looking at the raw talent in rural areas. Young men there were outside more, doing jobs, picking up hay or mowing lawns and not glued to their computer games.
Often they played multiple sports because they had to help fill in for teams.
They might play in their parents' teams and that gave them a decision-making element that was an important part of their upbringing.
"Being in the country can be an advantage. Facilities are also on your doorstep, it is five minutes to anywhere and there is usually some old sporting gear lying around."
Smith grew up in Putaruru in the '70s and even if you went away to school or university you played for the local club.
Now Putaruru kids went to St Peter's in Cambridge or St Paul's in Hamilton and played there, he said.
"They tend to go where the best rugby programmes are, whereas in my day we stayed at our local school."
Those were doing a great job but there was some congested talent.
"I see the issues and don't know the solutions to getting kids back to rural areas once they have left," said Smith
The Chiefs' first title this season was a great start but guaranteed nothing about the future and the staff knew they and the players needed to be much better again next year if they were to defend their crown.
The franchise were working with their regional academies and wider training groups then picking their Super squad. There were no restrictions on their search for players. The key was identifying the talent base within the region and understanding what would be needed to fill the selection holes in five years' time.
Success might stimulate others to drift to the area.
Cane, Brodie Retallick and Ben Tameifuna were young men whose deeds would encourage others.
But there were so many intangibles each season that you never knew which team would do well, Smith said.
"So many intrinsic factors count.
"There are things like team spirit, the character a team has and we got it in spades from these young men from all over the region."
The series
Day one: How Otorohanga turned themselves from a King Country outpost to Waikato club rugby champions; and a character emerges at one of New Zealand's most iconic clubs, Waitete.
Day two: Whether the Chiefs' success would help turn lakeside tourist trap Taupo into a rugby town; and Sam Cane's rapid rise from Reporoa.