Seamer likely to rejoin team after he recovers from dehydration.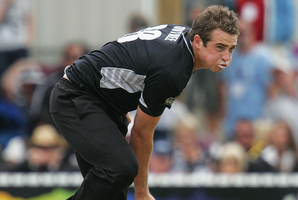 Tim Southee has been admitted to hospital with dehydration and Rob Nicol is also too ill to travel to Kandy ahead of New Zealand's first Twenty20 World Cup match against Bangladesh on Friday [evening NZT].
Southee, who New Zealand Cricket said was displaying symptoms associated with gastro-enteritis, has been admitted to a Colombo hospital. He is not thought to be in a serious condition and could join the team later.
Daniel Vettori, who like Southee was ruled out of the warm-up defeat to South Africa in Colombo because of illness, thought to be food poisoning, has improved and has travelled with the team.
Nicol played in the South Africa match but is now also ill.
New Zealand's stocks were so low that bowling coach Damien Wright was forced to field for the Black Caps. However, captain Ross Taylor, who led the way for New Zealand with 75 from 42 balls, including seven sixes, remains hopeful that he will have a full squad for Friday.
"We had a few illnesses leading into the match, only having 11 there, but the whole squad's had a game so far in the last couple of weeks so we're looking forward to the start of the World Cup," he said.
"Millsy [Kyle Mills] and Jake [Jacob Oram] weren't going to play in the first place. Dan and Timmy falling ill, both eating at the same place, I'm not sure what it was. It's part and parcel of this part of the world. Sometimes you do get sick and, hopefully, we've got it out of the way now and there will be 15 people to choose from come the first game."
The depleted squad gave young bowlers Doug Bracewell and Adam Milne another chance to impress ahead of possible World Cup debuts.
Milne was the pick of the bowlers after taking the wickets of the two South African openers and finishing with 2-26 from four overs. Bracewell dismissed top scorer AB de Villiers for 54 while giving up 36 runs in three overs.
"They probably wouldn't have gotten an opportunity had they [Vettori and Southee] not gone down," Taylor said.
"They are both very young in their international careers and even though it was a warm-up game they would have learned a lot from the way they bowled, not only that but playing against and watching some of the world's best quick bowlers in action."
The Black Caps tried a few different tactics, opening with two spinners in Nathan McCullum and Ronnie Hira after using just three overs of spin in their loss to Australia. It worked briefly, with just 18 runs coming from the first three overs before Hira went for 19 in the fourth over as South Africa went on to post an impressive 186 for six.
The other change in tactics saw James Franklin moved to the top of the batting order but he managed only 12 from 11 balls, while regular opener Nicol benefited from a move down the order to five in scoring 37 as New Zealand reached 177 for eight.
Taylor said Franklin's move up the order could be replicated.
"We've seen South Africa open the bowling with a left-arm spinner [Robin Peterson] and we thought sending Franklin up there just to break it up a little bit."
T20 World Cup
Group A
England
India
Afghanistan
Group B
Australia
West Indies
Ireland
Group C
Sri Lanka
South Africa
Zimbabwe
Group D
Pakistan
New Zealand
Bangladesh
Friday: NZ v Bangladesh (10pm start NZT)
Sunday: NZ v Pakistan (10pm start NZT).
- APNZ