The Reporoa Rugby Club and Reporoa College First XV guided Sam Cane to the Chiefs and the All Blacks.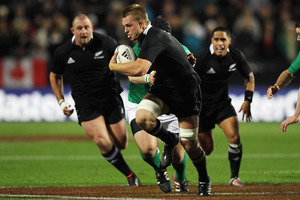 Sam Cane is a poster bloke for country rugby kids, a young man who lives by the axiom that if you are dedicated and want it enough, you can make it.
It's been that way for Cane since he was 6 and his dad, Malcolm, helped coach him at the Reporoa Rugby Club.
They were taught the basics and, as a group, kept winning the junior competition before graduating to the 1st XV at Reporoa College and more combined success.
"It was an awesome time," the 20-year-old All Black recalled.
Cane and his mates were always training. They didn't realise it but they were creating a competitive physical and mental base if they wanted to push into the pay-for-play ranks.
As soon as they arrived at school, they were playing touch on the tennis courts. There were similar contests at interval and lunchtime which invariably left them sweaty and trying to eat their lunch as lessons resumed.
"There were times we were in class with a teacher who had no idea what rugby was about and he'd be thinking 'what is this kid doing'?"
When Cane was picked for the Bay of Plenty under-14 reps he got some academy training and an idea of the regime of a professional player.
He and his buddies put together some rudimentary weightlifting gear and stored it at the local garage for use after school. The Bay trainer visited and helped them with some programmes.
It was one way for the Bay of Plenty to keep some of its rising talent.
"We'd go in there and have a decent crack but we didn't have a ride home because none of us had licences," Cane said. "We had to try and hitch home or else ring mum to come and get us."
Home was 15km away where the Cane family were brought up on a 242ha deer farm their parents, Malcolm and Kathy, ran. The family's eldest stayed there until the seventh form when he transferred to Tauranga Boys' High and entered the BoP rugby academy.
He slipped up a few times and remembers his father telling him any more mistakes and he would be out of school and not coming home either.
By then a number of schools in Hamilton and Auckland had started to entice players.
BoP player development manager Dean Jennings took in Cane and his buddy Carl Axtens as they meshed their final year of school and rugby. That allowed them to stay within the franchise boundaries and helped them with the transition to the busier environment of life in the city.
"You'd describe him as an old-fashioned country boy," Jennings recalled. "Well-mannered, humble, works hard."
One of the lessons Jennings tried to impart to his young boarders was the need to have something other than their sporting prowess to fall back on if their professional ambitions withered.
Cane listened. He studied business management and even when his career began to get busier, he enrolled in night school to keep his papers going.
Axtens' father, Steve, a former lock for Counties and BoP, has watched the mates go through the rugby grades and reckoned Cane was always destined for the top.
"There might have been faster kids or bigger kids but he had a steely determination second to none.
"He would go until he was dead on his feet. You talk about good work ethic, he had that in spades and the boys kept each other grounded."
Cane never got out of line again, is in his third year with the Chiefs and is a two-test All Black understudying the team's legendary leader, Richie McCaw.
Heartland roadtrip
Tuesday: The Super 15 triumph was not the only pleasant surprise in Chiefs country this year.
Tomorrow: To the mill town of Tokoroa, where breeding internationals is par for the course, and we catch up with a man who once called Putaruru home.