Choke-breaking defensive play by Silver Ferns shows impact of fresh coaching style.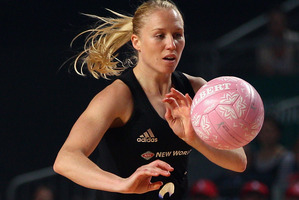 Waimarama Taumaunu's imprint on the Silver Ferns is becoming apparent after their opening Constellation Cup win in Melbourne.
The three-test series against Australia is the first opportunity to see what direction Taumaunu hopes to take the team in during the next four years.
While Taumaunu inherited the side at the end of last year, the transition was hurried after Ruth Aitken had to pull out of her last tour to Australia as New Zealand coach for personal reasons.
She has now had ample time to make her mark on the national programme and Sunday's 54-52 win told us a great deal about what we can expect from the Silver Ferns under Taumaunu's reign.
The New Zealand coach is determined to instil a hard-nosed quality in her team and she has already made a breakthrough in this regard.
Last season the Ferns' lack of composure under pressure was highlighted after they led at halftime on five of six occasions against Australia, but converted just two of those leads into wins.
When the Ferns fell into another fourth-quarter death spiral on Sunday night, there were murmurings of "here we go again".
But this time, when the Australians rallied, quickly reducing the Ferns' lead of six early in the fourth quarter to just two, the New Zealanders held firm.
Taumaunu said in the build-up camps that she has placed strong emphasis on putting her side in pressure-filled scenarios.
"We're very aware of [Australia's fighting qualities] and we have been practising, particularly in the final few minutes of each quarter. And I was pretty pleased with how we went in each quarter, not just the last one. But the last one in particular because that is where the greatest pressure is and greatest intensity from the Australians goes on," she said.
A formidable defender in her playing days, Taumaunu also demands a lot from her team on defence. She wants the Ferns to pride themselves on their resolute through-court defence and there seemed a marked lift in defensive intensity from the attacking players in particular.
In the forward line Maria Tutaia and newcomer Camilla Lees, who slotted in well alongside ultra-consistent veteran Laura Langman, applied themselves strongly, with the latter coming up with two deflections and three pick-ups. Tutaia, who was named player of the match, said Taumaunu has been drilling into her the need to defend with the same intensity with which she attacks.
The change in attacking dynamic on Sunday was probably the most notable difference from the Ferns of old, with the New Zealand side taking a slower, more deliberate path to goal.
Australian coach Lisa Alexander claimed the Ferns had "out-Australianised" them with their "extraordinary patience" on attack.
But Taumaunu said the change has been brought about more through personnel changes than any switch in coaching philosophy.
The Ferns have lost two dynamic playmakers in Temepara George and Liana Leota, whose attacks were based on speed and flair.
But Lees, and her back-up on the bench Bailey Mes, are considered more safe and steady players, necessitating a change in style.