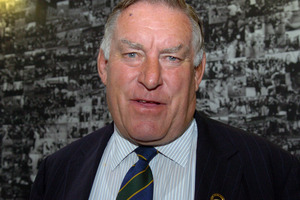 A lone bloke, hoodie over his head to guard against the wet and chill, was fixed on the work of the local age-group side.
His devotion was rare, the sort of stuff which was standard fare in the 1960s but not so common these days. But this was Waitete, the club made famous by the deeds of one Colin Earl Meads.
When Moki returned fire in our conversation, his obvious Mongrel Mob affiliations made him an even more intriguing spectator.
One of his boys was playing loosie and he had an elder son who was going round in the under-16 rep side.
Moki had made a promise to follow their rugby deeds wherever that took them.
"I was brought up without my father and said I'd follow my boys, whatever they did.
"They play all sports - rugby, boxing - and have made rep teams," he said.
Moki played rugby at school and then socially for the extinct Huia club. He loved it. "It was a bit of a family thing. I loved meeting people, the social part and then all the physical stuff in the game.
"I loved pain, the harder I got tackled the more I liked it. I thrived on the pain. The sorer I got, the better I played."
Guessing Moki's position in his playing days proved wildly inaccurate. His current physique suggests he played close to if not in the scrum.
That conjecture brought a hoot of laughter. "Nah, I played on the wing," he said.
"I was hard, not fast but when I got going I knew how to hit someone when I was carrying the ball."
A few patched Mob members played for Huia and coach Norman Wade was still involved in rugby, running the Waitete B side.
The men were involved when their children played at Huia but gradually the club membership dwindled and the club closed down about a decade ago.
Some, like Moki, have stayed in touch with their sport.
There was not much league in Te Kuiti, so rugby was their winter choice.
Moki, a regular at practices and games involving his children, has also done some coaching.