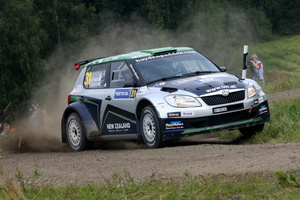 Hayden Paddon started strongly on the opening day of Wales Rally GB yesterday but electrical and gearbox issues saw the Kiwi retire partway through the day and prepare to restart on day two, raced overnight.
Paddon started the rally second of the Super 2000 World Rally Championship competitors behind Swede Per-Gunnar Andersson.
Together with co-driver John Kennard, they were quickest among the SWRC competitors and 14th fastest overall setting a sharp pace for the 20.48km stage. They were 4.4 seconds quicker than Andersson.
Things started to go wrong on stage two when the Skoda lost all power with an ignition problem.
"The day started well," Paddon said. "It was good run and it was good to get the first stage out of the way after a long period out of the car.
"An electrical fault stopped the car in a similar fashion to what happened in Portugal earlier in the year. After going through all the systems and resetting everything, we got the car fired again, losing 14 minutes. With championship leader, P-G Andersson out on the same stage, it was vital to continue to pick up the points."
Paddon fought back on stage three with the second-quickest SWRC time but second gear in the Skoda's gearbox was gone.
At the end of stage three, he said: "What does a guy have to do to catch a break? We know what the issues are with the gearbox and we'll try and sort them this afternoon."
But the electrical problem from stage two re-occurred before the start of the fourth day, forcing Paddon to retire.
"At least this time, unlike Finland, we can re-join the rally and we will be back tomorrow with just one target - to try to beat [Volkswagen Motorsport competitor] Sebastien Ogier on some stages," he said. "If we can do that, then not all is completely lost for the weekend and with the championship leader also rejoining tomorrow, we may not lose many, if any, points to the championship lead."
The rally re-start rules means Paddon and Kennard were given stage times for the remainder of the day's six stages calculated by adding five minutes to the category winner's time.
Wales Rally GB continued from the base in Cardiff and ran over military and forest roads on Mynydd Epynt before heading south for the final stage of the day at Celtic Manor, near Newport. Tonight sees another repeated loop of three stages west of Cardiff.
- APNZ