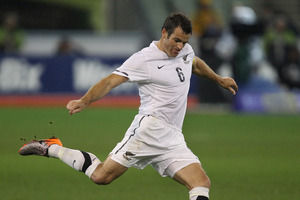 When Ryan Nelsen was first made captain of Blackburn Rovers, he thought there had been some kind of mix-up.
Nelsen, who now plays for Queens Park Rangers in the English Premier League, joined Rovers from DC United in January 2005.
Just two months into his time in Lancashire, as the team prepared for a huge match against Manchester United at Old Trafford, he was surprised to find the captain's armband beside his locker and assumed there had been an error.
"After seven games, I was made captain of Blackburn," Nelsen told the Herald on Sunday. "At first, I thought it was a mistake. When [manager] Mark Hughes put the armband on my seat, I took it off the seat and walked over and gave it back to him."
Hughes was quick to assure Nelsen - in no uncertain terms - that he was now one of just 20 men in the Premier League with (c) beside his name.
Looking back now, it was a quick elevation. Nelsen was 27 and had captained his country but he was a Premier League rookie in a squad that included veterans such as Robbie Savage, Paul Dickov, Brett Emerton, Garry Flitcroft and Dominic Matteo.
Under Nelsen, the team improved to finish well clear of the relegation zone and reached the FA Cup semifinals; he retained the armband for most of his seven years at Ewood Park.
Hughes wasn't the first to see Nelsen's leadership potential. He had captained Christchurch United at a young age and led both his American universities, Greensboro College and Stanford. Within a year of joining DC United, he was skipper, later leading them to the MLS title. And back in 2004, he was first made captain of his country.
"Maybe I have a natural tendency to be a leader but I've never asked to be captain," says Nelsen. "I've never wanted it - it has always just been given to me from an early age.
"I never look at the captain's armband as [something] that makes you special or should make you a better player or anything like that. If I [wasn't captain], I would be exactly the same guy around the team but it just happens that they give it to me.
"When it happens, I always try to lead by example; I always want to win, to train hard and to play hard.
"I respect every one of my team-mates and I expect them to follow me. If they choose to, then so be it."
Nelsen's influence was profound again last Tuesday night against the Solomon Islands. He personified calmness and composure at the back and only at close quarters can you appreciate the constant instructions being given out to his team-mates.
He also remains supremely professional; whether it was the superb technique that saw him carve an inch-perfect left footed cross for Chris Wood (that was headed on to the bar) or the 100m sprint when he was caught upfield at a second-half corner, racing back and eventually defusing the danger in his own six-yard box.
His pace may have slightly slowed but his reading of the game, anticipation and positioning are second to none, meaning he is almost always where he is meant to be.
"The inclusion of Ryan Nelsen and Winston Reid takes New Zealand to another level," said Solomons coach Jacob Moli. "They lift all of the players around them."
That is probably Nelsen's greatest legacy - the sheer influence he has on his team-mates. In that way, he reminds of Queensland league legend Wally Lewis, who had the ability to lift his team just with his presence, with former Maroon team-mate Paul Vautin once saying that looking up to see Lewis beside you in a tough Origin battle was "like finding your Mum in a supermarket as a lost three-year-old".
"With Nelly, there is so much he brings to the team," said Michael McGlinchey earlier this year. "He conducts the team on field and organises everyone. But he also makes you feel more confident and always trusts you, even just in giving a pass when you are closely marked."
Team insiders will tell you that Nelsen is always measured but direct in what he says. He demands the highest standards on and off the field. It has led to some issues with New Zealand Football in the past but these have eased since 2010.
Nelsen's leadership path started when he was playing under internationals as a teenager in the National League.
"Danny Halligan had a massive influence on me when I was young in Christchurch," remembers Nelsen. "There were also guys like Mike Fullen and Garry Lund - I was 14 or 15 and they were hardened international players. It rubs off on you when you are that age."
He progressed to the United States, where the apprenticeships continued.
"Bobby Clark was an amazing influence on me at Stanford", says Nelsen. "After that pretty much everywhere I went there were great leaders. I had Hristo Stoichkov as captain at DC United - one of the world's greatest players and you learn so much off the older players.
"In all my teams, I always made sure I was first there and last out, I would talk to [senior players] a lot and soaked up everything I could. So when it was my turn to captain, I had a pretty good reference point off all these fantastic human beings to reflect on my own captaincy."
While he has had great success as club level, it is his leadership efforts on the international stage that will be most fondly remembered. No one put more of his heart and soul into the campaign in South Africa and that was even before he took the field against Slovakia, Italy and Paraguay. Nelsen sits alongside Steve Sumner as our best captain and reaching Rio - or even coming close - would see him out on his own. Nelsen is no one-man band - currently the All Whites have one of the best squads in their history - but he adds that X-factor. With him, it seems anything is possible; without him there are definite limitations.
Nelsen was non-committal about his international future following the last World Cup, understandably wary of both his age and the vagaries of football. But he will be picked for as long as he is available and the signs are good, with the effort he has made to return for the games against Jamaica, New Caledonia and the Solomons Islands. It is a valuable chance for the possible future leaders - men such as Tommy Smith, Winston Reid, perhaps Tim Payne - to learn as much as they can from Nelsen.
"I think my role now is to teach guys to lead in their own way and help them to have a greater positive influence around the team," says Nelsen. "The art of captaincy is something that you can't really write down. You can't really describe it or put it in a book - it is really just something that people have. People follow you and look up to you. It's learning what to say at the right time, it's learning what not to say. Sometimes the best thing is to say nothing and you learn through experience how to deal with situations."
"I always say to the guys I would pull a baseball bat out and would protect anyone of them. I will take on anybody for them and I know they will do the same for me. It's something that is really hard to put into words but I tell you what when you have a good captain - and I have had some really good ones - it is so powerful."