"Nothing I did in my new career [at that time working at Fletchers] was remotely as satisfying as grafting 40-odd on a green wicket against a pace attack that sniffed blood ... It's not until you have a real job and you're sitting in an office looking at the clock, and realising only two minutes have passed since you lasted looked at it, that you really get it. That's when you realise you never really appreciated what you had, and you're forced to acknowledge it left a hole in your life which you haven't been able to fill."
-John Wright (John Wright's Indian Summers)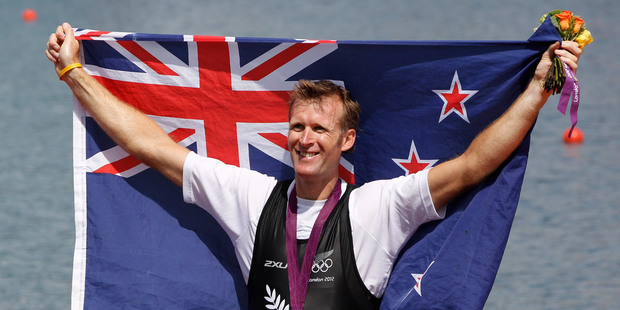 Choosing the right time to retire can define a sporting champion's career. Is it better to go at the peak of your powers but with potential to go on; or late, once you're a grizzled veteran getting overtaken by youth?
The question is particularly valid in Olympic year. There comes a time to decide whether to carry on four more years. Likewise with popular New Zealand codes such as rugby and cricket, the best athletes need to choose when to face whatformer New Zealand cricket captain and coach John Wright once described as "Limelight Deprivation Syndrome".
Wright's quote above sums up what many top athletes face. Stepping away from sports in which they've made their livelihoods into a 9-to-5 world is intimidating.
As New Zealand's oldest gold medallist from London, rower Mahe Drysdale (33) is arguably the athlete with the most to weigh up. As a five-time world champion and victor at numerous boutique events around the world, he cannot achieve much more in the sport.
Drysdale can compound his legacy with gold at Rio de Janeiro but, at 37, could slip through the field. It is a major decision but one he hopes to have made by next year, even if he takes a year off to travel with his partner, Olympic bronze medallist Juliette Haigh.
"I have to decide whether winning another Olympic gold would be as good as the first one and whether I have the passion," Drysdale says. "That's what happened after Beijing. I intended to have a year off but by December, the love for whatI was doing came back so I decided not to wait.
"This time, there is a lot I want to do away from rowing, so there's every chance I won't compete next year. It'll be great to travel without worrying about collecting oars and a boat at every port.
"Either way, I've decided to stay fit next year. I might row at the Henley Royal Regatta, do a Coast-to-Coast or even ride some stages of the Tour de France ahead of the race before stopping to watch it."
Drysdale's biggest fear is committing too early to Rio and questioning the decision 18 months in.
"If there's a shadow of doubt, the goals won't be achieved.I love rowing but I also love winning. That's the reason I originally went into the single sculls.I wanted to see how good I was."
Sir Richard Hadlee is someone Drysdale might observe for tips about exiting on top.
His knighthood for services to the game was announced in the 1990 Queen's Birthday honours list before his final two tests against England at Lord's and Edgbaston.
He finished with a world record 431 test wickets, the most five-wicket bags in an innings (36) and most 10-wicket bags in a match (9). He even took a wicket (Devon Malcolm) with his final ball in test cricket.
Known for his meticulous professionalism, Hadlee planned for his retirement. However, he says there was a key trigger that convinced him it was approaching.
"I remember the Boxing Day test of 1987 at the MCG," Hadlee says. "We nearly won, but it annoyed me that I couldn't get Mike Whitney out in that last over. I'd bowled plenty of overs [31] and the workload washorrendous. The recovery as a 36-year-old was starting to take too long.
"After that test [where Hadlee was man of the match for taking 10 wickets for 176 and man of the series for 18 wickets at 19.61], I slept in.
"I should have been severely fined but fortunately Ewen Chatfield knocked on my door saying 'Paddles, you're about to miss the bus'. There was no time for a shower and I could barely pack my bag. That had never happened before."
Hadlee continued for just over two-and-a-half years until the week after his 39th birthday, but put in place three phases for moving on. Incredibly, for such a fit athlete, he underwent heart surgery exactly a year after he bowled his last ball in tests.
Hadlee first retired from county cricket with Nottinghamshire, who he played for between 1978 and 1987 to prolong his international career. The second phase was to finish playing in New Zealand; the third was to finish in England.
"Ian Smith talked me into finishing on that tour. When I'd finished and the morning after I'd taken a wicket with my last ball, I woke up relieved. On reflection, it was a great way to bow out."
Former All Black Stu Wilson also faced a tricky decision.
After a stellar series against the British Lions in 1983 - where Wilson had become the All Blacks' record test try-scorer - the right wing was called on to captain a depleted team on the tour to England and Scotland. The All Blacks drew with Scotland and lost toEngland in one of the side's less memorable tours.
Aged 29, Wilson decided he'd had enough.
"I knew it was time to go. I looked at my age and what more I could achieve, plus there was a guy called John Kirwan looming on the Auckland club scene. I felt I'd done everything in our era. There was no South Africa to tour in those days.
"We needed to go to more countries to enliven the travelling experience rather than just Australia. I always enjoyed it best when we were doing something different like going through Argentina and Uruguay [1976], North America [1980] and Romania [1981].
"I felt my time was up after that 1983 test at Twickenham when we got dusted. In our era, everyone fitted rugby around their work and family commitments and we put a lot of energy into scrapping for money. For instance, we 'employed' Andy Haden as the minister of perks and lurks on tour. He'd put money into a team pot from selling the odd ticket to games."
Wilson says he considered moving on from rugby earlier.
"I often think back to the 1978 Grand Slam tour. I'd done all the major tours except South Africa and got a good offer to play for Widnes [rugby league club]. I snuck out into a car at the back of a hotel and met [Widnes skipper] Doug Laughton one night.
"They offered me a three-year contract but I had promised my employers at home [meat packers Thomas Borthwick and Sons] three weeks' notice. Widnes wanted me in a week so I could be on the field for a pre-Christmas match and they could recoup my salary smartly through the hype."