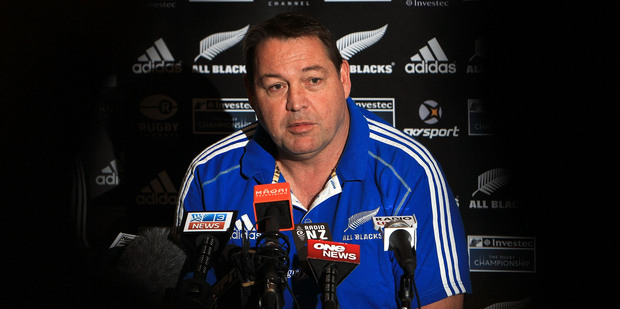 Optimism was in short supply when Steve Hansen took over as All Black coach. But the new man has surprised everyone
No one really saw it coming, even thought it was possible, but in less than a year, Steve Hansen has taken the All Blacks up another level again.
The national side appears to be in a better head space, just as focused if not more so and one of the most content, fulfilled and self-reliant teams of the professional age.
Hansen, far from being the apprentice, might just have been the master all along and has surely caused most of the rugby community into a hasty rethink.
The long-term assistant, for all that he was a familiar face, remained an unknown quantity when he was appointed in December.
For a rabidly unforgiving nation, it was unnerving, given Hansen was replacing arguably New Zealand's most successful coach of all time.
Faced with an enormous pair of shoes to fill, the overwhelming feedback at the time of his appointment was that he'd do well to maintain the All Blacks at their 2011 level before hitting hard times when a few senior players inevitably felt their bodies give up the ghost.
Coming into the Irish series in June, there were plenty of long-term followers braced for a crash. They saw a bad mix - an inexperienced coaching team combined with a group of players possibly lacking in motivation since winning the World Cup. Such were the jitters, debate was moderately fierce about who the new coach would be in 2014.
But not now. Hansen was never going to be content merely preserving the side he inherited: his goal was to improve and so far, he's done just that.
There won't have been many happier All Black sides than the current one. The mood is relaxed, yet focused, and Hansen is adept at creating contrasts: when it's time to train or play, the mood is deadly serious. When it's time to relax, Hansen knows how to switch off, have fun and put his men at ease.
That's a little different to how things were under Graham Henry. A supreme analyst, tactician and rugby brain, Henry was notoriously edgy on the day of a game. His former life as a headmaster also gave him an aura, one that often kept the younger players especially wary.
Hansen is a less intimidating character but no soft touch and he's as demanding as Henry without being as scary.
Halfback Aaron Smith found that out when he broke protocol around his recovery after the Argentinian test in Wellington and was dumped to the bench.
What makes Hansen so popular with his players and, so far, so successful in gaining results, is that he does what he says. He follows through and it's that honesty that makes the team tick.
"It's like your family; you have rules and there are consequences if you break them," he says. "We make no excuses for that."
High-performance environments are pretty much all about the vibe and Hansen has struck the right balance.
"We have new coaches and a lot of new boys and I think this year it is a bit more relaxed," says All Black wing Cory Jane. "The other coaches were the best I had been with but it could be pretty intense at times but this is a bit more relaxed.
"A lot of guys have taken ownership of themselves instead of being told what to do. There is a really good feeling."
Hansen's also been smart in the way he's created new goals to which individuals and the team aspire.
Relentless excellence is the mantra and Hansen's All Blacks want to become a great side - one that dominates the world game. It's a theme that sits well with the players who knew they had to be stimulated after winning the World Cup.
"I don't think any of the pressure has come off," says Israel Dagg. "We are world champions and everyone wants to knock us off. We can't rely on being world champions so we have this mentality of adding to this legacy and just striving to become the world's most dominant rugby team and not be one of those teams that slips away after the World Cup."
The vision is bold, the communication on how it can be achieved even better. Of all the areas under scrutiny, Hansen's communication was where many felt he would fall down. In fact, he's setting a new benchmark for all coaches on how to be clear, concise and engaging.
He speaks honestly without betraying his players - the No1 rule of the Hansen regime is: The team comes first. He doesn't use euphemisms or metaphors or jargon - he does plain English without hidden meanings or secret agendas.
The players are not in any doubt about what is required both on and off the field and while the first three performances of the Rugby Championship didn't fully erupt, it said much about the giant strides the All Blacks have made that they can win so easily these days and not even play particularly well.