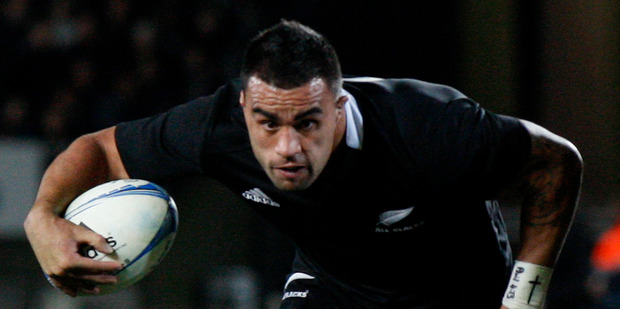 The art of destruction is not easily learned. If it's not in a player's DNA; if it's not instinctive to intimidate, impose and all but incapacitate any human traffic they encounter, it's unlikely they are going to carve out a long career as a test blindside.
It's easy to look at Jerry Collins and Jerome Kaino - the last two long-term incumbents of the All Black No 6 jersey - and preach patience; to argue that it takes time for the best blindsides to mature and learn their craft.
Granted, but in the case of Collins and Kaino, that innate desire to be at the frontline of the battle, to stop bodies dead in their tracks, was evident from their earliest days. It was that inclination to thunder into contact that saw Collins win his first cap at 20 and Kaino at 21.
For Kaino in particular, the challenge was finding consistency and the off-field discipline to reach the right conditioning levels to fulfil his obvious potential. The snarling, brooding stuff was always easy for him, being at his core. Kaino, a natural bruiser, loved the thrill of imposing himself physically.
As the All Blacks work to replace Kaino, Liam Messam has edged ahead of Victor Vito and Adam Thomson. Originally overlooked, Messam was a surprise starter against Ireland in Hamilton when Vito was injured and he nailed his best 80 minutes of test rugby.
Off the bench against Argentina, he delivered a more direct and penetrative approach than Vito had managed in the first half. The man test rugby nearly gave up on is now inpossession of a jersey critical to the way the All Blacks play the game.
"He's bringing a consistency of high-quality performance," says All Black coach Steve Hansen about Messam. "There is just a little more physicality than we are getting off Victor so he's comfortable in his own skin at the moment, Liam, and playing particularly well. He's combining well with Kieran (Read) and Richie (McCaw) and that is important as well."
Messam's renaissance is as welcome as it is surprising. He has intrigued for years: bearing early comparisons with Zinzan Brooke due to his uncanny skill-set and ability to look awfully like a back at times.
He's soaked up an inordinate amount of disappointment and yet remained fiercely loyal to New Zealand. He's been a classic yo-yo man with the All Blacks - in and out since making his debut in 2008, even earning an unprecedented public critique from the coaches after a mixed effort against France in 2009.
He was then dropped from the World Cup squad at the last minute in 2011 and yet here he is, giving it more than ever when most of his peers would have shot offshore having endured barely half of what he has.
Messam is starting to look the part; delivering the physicality the All Black selectors are after and indicating this is a genuine conversion; that like Kaino, he's finally finding his feet at this level after a slow start.
But unlike Kaino, that innate desire to be an enforcer has never been apparent in Messam. His game has been built on his speed, vision and handling. He is brave and willing, more explosive than he was, but the big issue is that relentless desire to hunt, to hit up hard yards in the tight and play close to the breakdown, has not always been apparent.
Never far from the surface when Messam is discussed are the words of former All Black coach Graham Henry when he said: "So you say to Liam ... 'You've got to fix these things up, you just can't turn the ball over and miss crucial tackles'. He's got some things that win games but he's got some things that lose games and that's the disappointment for us, and I'm sure the disappointment for him. At this level, you just can't afford to have guys making errors that cost you, because you'll lose the test match. It might be great to watch but All Blacks can't afford to lose too often."
A player can't be forever strangled by his past but for Messam to convince, he needs to prove himself in the toughest games in the toughest arenas. The next two games will be crucial for him - the Pumas in Argentina and Boks in South Africa are about as demanding it gets for blindsides.
England and Wales later in the year also present as bruising opponents and if Messam still looks the part then, is still gravitating towards collisions and dark places instead of open spaces, then maybe he can be the next long term All Black blindside.