Hore and Mealamu are happy to share the No 2 job if it means they can keep playing in black.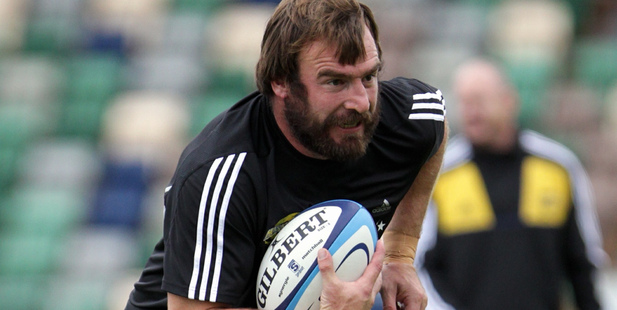 Job sharing. It seems to have become the practice for All Black hookers these days without all the unsavoury connotations of player rotation.
When you glance through the squad statistics there might be some logic behind "looking after" Keven Mealamu and Andrew Hore.
Hore is gracious enough to acknowledge there appears to be some geriatric clause around selecting the hookers.
They are the only men in the playing squad who were born in the 70s.
Hore has clicked over 34 years on this planet and Mealamu is only six months adrift.
The All Black selectors tried to nail someone down as an apprentice to the senior duo this season but did not find an answer.
They used Hika Elliot when Mealamu was recovering from his calf problems and they have looked at Dane Coles in one of the training camps. But nothing more.
They have gone back to their senior men, Mealamu with 96 caps and Hore with 68, blokes who show little outward signs of deterioration.
No doubt they need a shade more maintenance than they did when they first stuck their heads into front row combat. There will be some wear and tear and it will be extraordinary if both get to the (whisper it quietly) 2015 World Cup.
They may not want to or may not have that choice: Father time, injury, selectors and rising talent may see to that.
But right now, Hore and Mealamu are the best. Tonight it is Hore's turn to wear the black No 2 jersey on his home patch in Dunedin with conditions all in his favour.
At least that is the suggestion after the wind and tumult for Mealamu and the lineouts in Wellington.
"There are no excuses for a start are there," Hore agreed.
"One of things is the noise and getting used to that for the quick lineouts and those sorts of calls are hard to get through.
"With the Highlanders we played round with some hand signals and stuff but we will see what happens."
The noise in purpose-built stadiums in Dunedin and perhaps Hamilton was the loudest with crowds close to the touchlines.
It was similar in South Africa where they had a number of rugby arenas.
Hore felt the All Blacks tried to play too much rugby last week where Mealamu had the awkward duties of hearing then executing the lineout throws.
It was his turn tonight and that pattern was something the squad had used in recent years.
Hore's target was to wear the No 2 kit in each test and the competition between he and Mealamu was still intense. They were players of similar standard who got on well and understood the team ethos about selection.
He would not like to be a reserve each test but if job sharing meant more time in rugby then Hore was content. There was still plenty of training but if his enjoyment stayed and he could still contribute, rugby was a great occupation.
"I'll chip away while you can'cos there is going to be plenty of time on the farm after this," he said.
The Springboks had lost regular skipper Bismarck du Plessis for the season to a knee injury. He was a huge man, super fit and strong and an absolute menace at rucks. His replacement Adriaan Strauss was not as big but was a ball of energy across the park.