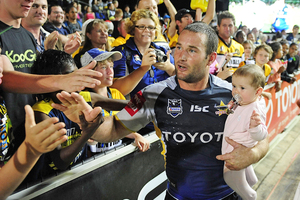 The prospect of giving North Queensland veteran Aaron Payne a grand farewell has provided extra momentum for the in-form Cowboys ahead of Friday night's NRL semi-final against Manly.
At first, all hope appeared lost for Payne after a Cowboys statement on Thursday claimed a knee injury had ruled the retiring hooker out for "the rest of the finals series".
But by the time the Cowboys arrived at Townsville Airport to fly out for Sydney, North Queensland revealed Payne could play again - if they made the grand final.
It brought an extra spring in the step of North Queensland, who were already buzzing from five straight wins.
"He's always a hope. He will be doing everything he can to get back into the side," Cowboys co-captain Matt Scott said.
"Fingers crossed for him. Hopefully his rehab goes well and he can get back."
Asked if it would motivate his side, Scott said: "Definitely.
"It will be great to have him around.
"If there is a chance I am sure the guys would want to play a bit better for him."
Cowboys coach Neil Henry said as long as there was a chance Payne could play again, their stalwart would continue his rehabilitation in Townsville.
"He is some chance in two weeks' time if we can keep winning and make the grand final but he won't be going down this weekend," he told Fox Sports TV.
"He will stay here and start rehabilitation and hopefully start some jogging next week."
Still, Scott could feel for Payne as the hooker contemplated an injury drawing the curtain on a 10-year NRL career while the Cowboys were on a finals roll.
"I can't imagine what he is feeling like at the moment," he said.
"To play 200-plus games and then miss out on his last finals series is devastating news."
Hundreds of fans - complete with a military marching band - did their best to lift the Cowboys' spirits when they gathered at Townsville Airport.
It brought back memories of 2005 when thousands of Townsville folk lined the streets to the airport as the Cowboys prepared to leave for their sole grand final appearance to date.
"It's a massive boost, especially for all the guys who haven't been around since 2005 when we last saw this sort of support," Scott said.
It also brought a smile to Henry who was an assistant coach when they fell at the final hurdle seven years ago.
"You dare to dream don't you? It's the Holy Grail," Henry said of another grand final.
"We went close in 2005 ...but we still didn't get the job done.
"The stars have to align a little bit and we have to play some good footy (to make the grand final) but there is a lot to look forward to."
The year 2005 also marked the last time the Cowboys beat Manly in Sydney, adding to North Queensland's appalling record in the Harbour City.
But an unperturbed Henry said: "I think it is going to take a good performance to beat us."
-AAP