Lock inspired by All Blacks' historic 1996 test series win in South Africa.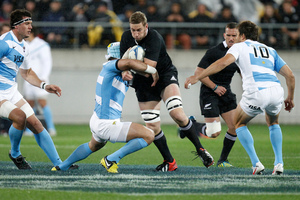 The emotions among the All Blacks are still a bright memory for Luke Romano. It is a passion he yearns to experience.
Sixteen years on he can still picture the tears, relief, exhaustion and jubilation as they slumped into the turf at Pretoria as series winners for the first time in the Republic.
Romano was a 10-year-old kid who loved his footy, now he is the come-from-nowhere lock who will do battle with the Old Foe tomorrow at Forsyth Barr Stadium.
He will carry his memories of Sean Fitzpatrick and the Brooke brothers, who were among the pack of proud New Zealanders to make history that day in 1996.
"To see the jubilation on their faces is still clear and that said it all. They had worked so hard and got the rewards," Romano recalled.
The lock has played a few Super rugby games against South African sides and understands how difficult it is to win in the Republic.
"To beat the Boks, it does take an 81-minute performance," he said after being named in the side.
"Regardless of the previous results, this is a match which has a lot of history connected to it and both sides will be going at it."
The Pumas provided a strong dress-rehearsal for this weekend's demands. They were extremely physical as Romano could still attest as he got over his soreness days after the game.
He was also having to handle some of the ribbing he took when he ran a tap penalty near the Pumas line late in the test and went backwards.
"I took it up but when you have two coming at you, one low and the other one around the middle, there was not much room to go," he said.
Romano was schooled at the famed Christchurch Boys' High School nursery before completing a carpentry apprenticeship. From the outside it looks like a rapid rise to black, but in reality Romano has been a slow-burner at lock.
He is still finding his rhythm at international rugby after just four tests.
This is his first tilt at the Springboks and each week he is finding out more about this game at the next level.
"I know that they will hit us with everything, they always like to play a physical game and that will be no different this weekend."
When Romano was learning his rugby at school, the Boks had locks like Victor Matfield and Bakkies Botha, the benchmark foes for the All Blacks.
He did not recall their work specifically because he focused on what his countrymen in black were doing.
"They were my team so that was natural but the Boks always had strong locks, big men who like confrontation," Romano said. "There is a sense of history for me about this match. There is the physical challenge because all the games I remember were huge arm wrestles."
He has tangled with Juandre Kruger and Flip van der Merwe in the Super rugby series in Africa and here.
Kruger was very sharp in the lineout and tight-five skills while van der Merwe was shorter and wider, the power man who liked confrontation.
The Boks had a similar setup to the All Blacks. They liked to send their wide runners into midfield which was a starter play used by the Bulls, Sharks and Stormers.
They wanted those men to plough ahead before they looked for their moves.
Their general pattern was to seek contact as a first, second and third plan, and then maybe something else.
It was a slightly old-fashioned kind of rugby, which may be a term you could use with Romano.
"It allows their players to get into the game early, run with the ball and get their contact early and get them some momentum and a feel for the game," he said. "I guess if we stop that then we are going a long way towards stopping their progress."
The All Blacks had to be well disciplined otherwise Morne Steyn would be going for goal anywhere inside the All Blacks half.
"Under a roof with no weather conditions to play their part, he is probably going to make you pay."
Control would be an All Blacks buzzword, a phrase which Romano has nurtured in his working life.
Carpentry gave him discipline, starting at 7.30am, finishing at five, going to rugby training, then getting home to run his hunting dogs.
Romano had to be organised and he was, but eventually something had to give. In recent years rugby has eased past the carpentry.
It has been that slow steady incline, nothing like the rapid ascension of Brodie Retallick.
"I was never as big and I am still not as big," Romano said. "I started to grow in my last year at Christchurch Boys' and then I was 21 when I started to fill out."
Three years in division two club rugby helped, then ITM Cup when he was 23 and now the Crusaders and All Blacks.
His eyes are still wide open at each turn of his career. "I'm not used to it yet and I don't want to be because that will be the day when you get too comfortable and your position is at risk.
"It is a great environment and playing for your country - there can be no better thing."