Our week-long inquiry into our changing national identity concludes with a look at the future through the eyes of our youngest citizens.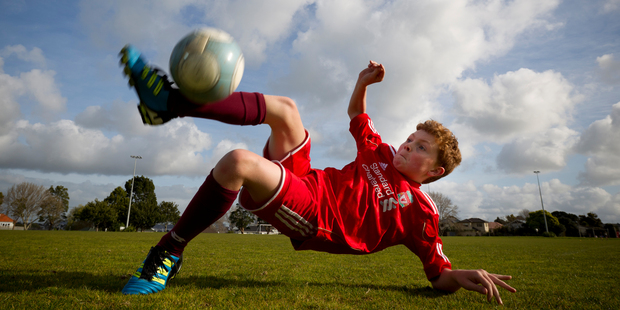 All Black selectors: Note down Seth Grouby's name for your 2022 squad because it's a career he wants a crack at.
The keen 11-year-old will be 21 then, the same age his favourite player Dan Carter was when the Cantabrian was awarded his first test cap against Wales in 2003.
The Rotorua boy's attitude is representative of 40 per cent of the 22 young New Zealanders interviewed for this series who, from the first time they lace up a pair of boots or pull on a club or school netball uniform, want to become All Blacks or Silver Ferns.
These Kiwi kids also hold dreams to play for the Breakers or the Black Sticks, or see themselves at Olympic games for water polo, as rugby league stars or taking America's Cup honours.
Seth's family heads to fixtures as much as they can - their last outing was for the Eden Park Bledisloe match where Australia were walloped 22-0.
Playing, training, it's the most important thing he's done so far in his life, he reckons. "It's a cool as sport to play and it's just in my blood. I want to be an All Black - I'm on track, the main thing is to keep up your fitness and follow your dream."
As a cultural influence it's something that still binds Kiwis, our youngest tell us. Every child bar one, a 12-year-old from Christchurch, identifies a sport they've been involved in.
And, not just because we're still basking in the Olympic afterglow, many see New Zealand deriving its identity from sporting success.
Sara Dodds, 15, interviewed in Cambridge in the week when the town welcomed back its rowing champions, is a keen sailor whose idol is Tauranga yachting silver medallist Peter Burling.
"I'd quite like to be in the America's Cup," she says. "I'd like to move into 49er sailing in the Olympics."
Christchurch's Zeke De Gouw, 9, who wants to be a rugby player, speaks about pride in a small country doing very well on the international sporting stage, while Nicola Anisi, a 10-year-old from Henderson, says it like this: "We like the Silver Ferns and All Blacks a lot."
The All Whites' good run in the 2010 World Cup has also raised the profile of soccer in New Zealand, and Samuel Turner-O'Keeffe, 10, of Belmont Primary, dreams of playing soccer for New Zealand one day.
Cambridge Primary School student Phoebe Pettit, 10, feels very satisfied with her life so far because her netball team has gone up a grade this year.
Her hopes for the future are to "be a teacher or a netball player representing New Zealand".
At Belfast School near Christchurch, 11-year-old Amy Baker describes herself as "a sporty, out there, loving girl that loves my family and enjoys life."
Asked to define a typical New Zealander, North Shore schoolboy Robert Wilson, 10, says: "Helpful and sporty."
In Rotorua, Tatiana Tango, 10, says: "Aggressive, competitive, they want us to win."
All but one of the young people who spoke to us are glad they live in New Zealand and want to stay here. The exception, 18-year-old Charlotte Binks of Christchurch, is sad she has not seen her extended family in Britain since her parents moved here eight years ago.
But while sport is important, most young Kiwis are not tunnel-visioned about it. Their interests are wide, taking in music, drama, writing and travel, hanging out with friends, and the outdoors.
Sam Warena, a 10-year-old at Rotorua's Westbrook Primary School, wants to be a writer, a chef or an actress and loves fishing with her dad - she can tell a tall tale as good as the next kiwi.
Her fish, she says, don't ever get away.
"We go out near Maketu. We usually have a competition for who gets the biggest fish, I usually win," she says. "I've been fishing on a boat ... as soon as my dad handed the rod over to me I started reeling in a fish."
On the North Shore Isobel Davis-Gray, 10, says she really likes sports but considers music and study to be important too for "a well-rounded life".
For Sophie McMillan, a happy-go-lucky child also at Belmont Primary, homegrown reality television characters are more of an inspiration.
"When I grow up I want to be an interior designer, because I watch this ... show called The Blockand I think renovating is really cool," she says. "I just want to be famous, or a professional actor."
The question
Who are we?
What does it mean to be a New Zealander in today's interconnected world?
The context
The "typical" New Zealander who will read the new compact Herald is much harder to pin down now that we are more likely than ever either to have come here from overseas or to have been born here and gone.
The methods
A DigiPoll survey of 750 New Zealanders plus in-depth interviews with 91 people in New Zealand and 16 NZ-born people in Australia, including similar numbers in five 20-year age bands. The NZ interviews were arranged with the help of primary schools spanning the decile range in north and west Auckland, Cambridge, Rotorua and Christchurch. In addition historians at the online encyclopedia Te Ara selected 30 key events that helped shape our identity over the past 100 years.
The team
Greg Ansley, Kurt Bayer, Simon Collins, Yvonne Tahana, Lincoln Tan, Vaimoana Tapaleao.
The series
Monday: Pioneer stock - aged 80-plus
Tuesday: War babies - aged 60-79
Wednesday: Opening up - aged 40-59
Thursday: Children of Rogernomics - aged 20-39
Today: Sport unites the nation - aged under 20.
Key events 1992-2012
1992
Shortland Street begins. Consistently one of New Zealand's highest rating shows, New Zealand's own soap has reflected the nation's culture and society for 20 years.
1996
MMP made politics more representative of the diverse society New Zealand has become and gave Maori more political power and representation than they had possessed for a century and a half.
1998
First woman Prime Minister. With Jenny Shipley becoming the first woman Prime Minister followed the next year by Helen Clark becoming the first popularly elected PM, the days of New Zealand as an exclusively man's country were well and truly over.
2004
Lord of the Rings: The Return of the King wins 11 Oscars. New Zealand becomes identified internationally with beautiful landscapes and cultural creativity.
2006
Sione's Wedding, bro'Town (3rd series), and census shows 60 per cent of Pacific people born in New Zealand: These events highlighted the Pacific community's contribution to the culture and identity of the country.
2011
Christchurch earthquakes: As in the 1931 Hawkes Bay quake we learnt once again that we live in the 'shaky isles', and that in an emergency we respond generously to other New Zealanders in distress.
Source: 30 key events 1912-2012 selected by Dr Jock Phillips and his team at the online encyclopedia Te Ara. More online at: http://blog.teara.govt.nz
Snapshot: New Zealanders aged under 20
* European 58.1%
* Maori 11%
* European-Maori 9.5%
* Asian 8.5%
* Pacific 7.4%
* Other/mixtures 3.2%
* European-Pacific 2.1%
Where we are:
* New Zealand 91.8%
* Australia 6.6%
* Rest of world 1.6%
Source: Statistics NZ