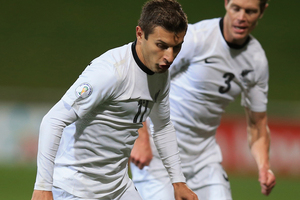 Against the Solomon Islands last night, a striker with six goals in his last five internationals and another with eight goals in four club games couldn't get a start. On top of that, the man who scored the goal that got New Zealand to the 2010 World Cup couldn't even made the squad.
It's hard to remember a time when the All Whites had such depth in one position and, while that is every coach's dream, it's difficult to keep everyone happy.
Ricki Herbert had six strikers in his 20-man squad for the two games against New Caledonia (2-0) and the Solomon Islands (6-1) and five got on the scoresheet on Tuesday to stake claims for their inclusion in the two games against Tahiti next month. Rory Fallon, who famously scored against Bahrain to get the All Whites to South Africa, didn't even make the cut.
Shane Smeltz, who drew level with Steve Sumner on 22 international strikes with his goals against New Caledonia and the Solomons, is the premier striker and demands inclusion but the rest of the five can easily be interchanged.
Herbert plumped for Chris Wood and Jeremy Brockie alongside Smeltz against New Caledonia but they were dropped in favour of Chris Killen and Kosta Barbarouses against the Solomons. It might have been viewed as a tough call, especially as Wood had scored six goals in his last six internationals before adding another off the bench last night and Brockie slammed in eight goals on the Wellington Phoenix's recent four-game pre-season tour of India.
But both Barbarouses and Killen impressed. Barbarouses, in particular, stood out and his pace and trickery give the All Whites good variation up front.
Herbert said his selections were calculated.
"I think we needed a little pressure on everybody and ... we probably got a very good reaction from the group," he said. "I thought the platform in Noumea could have been a little better and the scoreline was probably a little light.
"Chris [Killen] gave us a good platform and Kosta was excellent. He worked tirelessly, got in behind and used his pace and that's what he's really good at. There's a good sign that performances need to be there and we saw that from everyone tonight."
Killen, 30, who returned to more familiar surroundings after playing a holding midfield role at June's Oceania Nations Cup, said the competition for places had made him perform.
"It's great," he said. "It keeps you on your toes. Going back three or four years, Shane and I were probably sitting comfortably and we knew week in, week out we would be playing. Now you start to get a little concerned but that's something that lifts your games and it benefits everyone."
The two results have left the All Whites on top of the table one-third of the way through the final phase of the Oceania qualifiers. They are the only team with two wins from two and results against Tahiti next month would go a long way to sewing up a place in the intercontinental playoff with the fourth-best side from North and Central America.
It has helped erase some of the memories from failed Nations Cup campaign and left the island sides in no uncertainty the All Whites are favourites to go through.
"I think they are pretty aware of our status and how good we can be but we probably haven't shown it as recently as we should have," Killen said. "The bad performance in Honiara was a disaster but this is the best way to come back and show everyone we are a good team, we are back.
"It will take something special to tip us over. We have a real depth and good energy in the squad. It's great to have and teams should be worried about us."
- APNZ