Rangitoto College pupil shows great promise in the pool.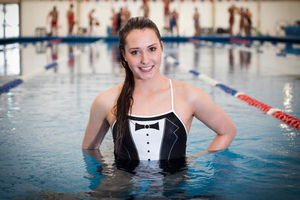 It is no surprise Rangitoto College's Tabitha Baumann is facing something of an identity crisis.
Born in Australia to a Czech father, who represented Canada in the pool, and an Australian mother who swam for Australia, Tabitha spent her early years in the country of her birth before her father returned to Canada to head the country's Road to Excellence programme in January 2007.
Father Alex was no stranger to success, winning the 200m and 400m individual medley golds - in world record times - at the 1984 Los Angeles Olympics, but until her family went to Canada, Tabitha and brother Ashton had shown little interest in following their parents into the pool.
In January this year the family headed back Downunder, this time to Auckland, as Alex took the role of chief executive at High Performance Sport New Zealand.
The problem for 17-year-old Tabitha, as her international career is set to blossom, is which country she should swim for.
A late starter, she first swam competitively as a 12-year-old and soon won a place in the Canadian team for the Junior World Championships. She enjoyed her time with them and the opportunities that came her way, but now she is torn.
"I still have strong ties with Canada," said Baumann, who really announced her arrival on the local scene with a stunning 1500m freestyle victory at last week's Auckland winter championships, a race she won in 16m 09.14s - more than 50secs clear of the field and comfortably under her previous best of 16m 22.91s.
Confirmed as an NZ short course record, her time is faster than the 16m 20.47s (long course) swum by Lauren Boyle in winning this year's national title in record time.
"But to swim for Canada at the world short course championships I would have to go back there and swim their trials. But," she admitted, "the longer I am here the more I'm liking New Zealand. It will be a huge call but one I will have to talk over with my parents and my coach before making a final decision." She already has New Zealand residency.
Alex Baumann, world swimmer of the year in 1981 and 1984, said he is committed to his role with High Performance Sport NZ until at least 2016 "and beyond".
"In the end it is up to her. It is something we have been talking about," he said.
"The challenge would be in going back for the Canadian trials. That would mean three weeks out of school and while they have been very accommodating, it would not be in her best interests."
School work is important to the Year 12 pupil to the extent she by-passed the New Zealand Secondary School Championship in Hamilton last week to concentrate on her schooling.
Tabitha Baumann has quickly become hot property in a sport desperate for success after largely under-achieving at London 2012.
Just which swimsuit she will don is still up in the air but there is no doubt which country her coach, Thomas Ansorg, and Swimming New Zealand would prefer it to be.
Swimmers of her ability have been few and far between in recent years and to have Tabitha Baumann waving the Kiwi flag would be a tremendous fillip for her school and the sport in general.
For college sport results go to http://tinyurl.com/collegesport