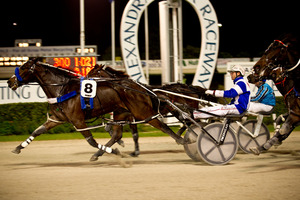 Australian horse trainers moaning is hardly anything new.
However, when it comes to the rankings for the New Zealand Trotting Cup they might have a point.
Victorian trainer Andy Gath has been left bemused and disappointed by the ranking his exceptional 4-year-old Caribbean Blaster has been given for the great race at Addington on November 13. And he is now wondering if the two-time group one winner will even make the race.
Addington officials have introduced a ranking system for the Cup, which sees all 40 nominees ranked weekly, so their connections and the betting public know where they stand in the Cup line-up.
While the top-ranked horses are relatively easy to predict, matters become far more interesting around the 12th-18th ranked horses, the ones on the cusp of making or missing the $600,000 feature.
Caribbean Blaster was ranked 14th last week and fellow Victorian pacer Mustang Mach 15th, with their trainers fearing they could get bumped out of the race by Kiwi horses winning local races which guarantee them a start.
That fear became reality when Franco Ledger won at Addington last Friday, guaranteeing him a start and pushing the two Aussies one spot further back.
The rankings panel have said they will place greater emphasis on open-class form, which means a host of Kiwi pacers will have chances to boost their rankings running placings in the almost weekly feature races here.
But Caribbean Blaster and Mustang Mach will have only a few lead-up chances in Victoria as they raced later into the winter, thinking their Cup spots were secure.
"I am starting to worry," said Gath. "I think he is an ideal horse for the NZ Cup and we are committed to going but we might not make the race now.
"I was intending only having a couple of lead-up races, like the Kilmore Cup at the end of October, but if we do that and are unlucky there we might run out of chances to jump up the rankings."
Gath is disappointed Caribbean Blaster's two group one wins in Australia's biggest 4-year-old races haven't counted for more points, whereas Mustang Mach won last season's Messenger Pace at Alexandra Park, the greatest doorway to a future Cup win of any race in Australasia.
"I can see where most of the higher-ranked horses get their places from but I struggle a bit with Mah Sish, who has never won a race worth more than $30,000 being ranked 12th and Sushi Sushi being 10th.
"On last season's form, we had to be above Sushi Sushi, because while he was a great 3-year-old we beat him fair and square last season and so did Mustang Mach.
"So, I don't think the rankings system helps the Australian horses at all."
Auckland Reactor is the loose $5.50 favourite for the NZ Cup and trialled yesterday.