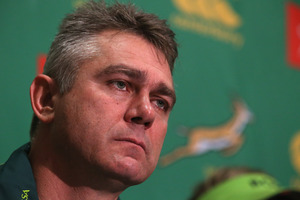 It seems a forlorn and slightly desperate hope, but Springboks' coach Heyneke Meyer says his side will need plenty of luck if they are to beat the All Blacks in Dunedin on Saturday.
Fresh from a disappointing loss to Australia - the South Africans took a direct flight to Auckland straight after Saturday night's match in Perth - Meyer called the All Blacks the "ultimate challenge" and uttered the statement that will probably have several former Springboks coaches turning in their graves.
"If you want to win away from home, especially against New Zealand, you need a bit of luck as well. If you look at the previous games we've won, there was luck involved.
"Obviously we need a huge improvement but also we need a bit of luck and that's been the case for the last I would say 100 years."
Meyer is already under pressure after only six matches in charge of the Boks since taking over from Peter de Villiers, although the team's travel schedule hasn't helped.
After scrapping out a victory over Argentina in Cape Town, they were fortunate to draw 16-16 against Argentina in Rosario before trekking to Perth for the 26-19 defeat to the Wallabies after leading 13-3 at one point.
To make things worse for Meyer, who will be hoping to push the All Blacks around up front, two of his tighthead props, Jannie du Plessis (hamstring) and Pat Cilliers (elbow), have injury problems.
A decision will be made on them tomorrow and replacements in South Africa have been put on standby, but the news on wing Bryan Habana's ankle strain is better and he is likely to play.
Lock Eben Etzebeth's hearing for an alleged headbutt in Perth is due to be held tonight.
How Meyer must wish he had Steve Hansen's problems. Whereas the All Blacks are missing only Dan Carter, who has a calf injury, and are winning relatively comfortably despite not playing well, the Springboks have looked clueless at times.
When asked about the All Blacks' apparent lack of form, Meyer replied: "Hopefully they don't play well against us and they keep their same form."
That is probably wishing for too much good fortune. The All Blacks had hoped for a much more complete performance against the Pumas in Wellington after their rusty wins over a below-par Australia and will be fired-up to deliver it in the covered Dunedin stadium, as assistant coach Ian Foster admitted.
"We are really looking forward to it. It was really unfortunate last weekend in Wellington with the conditions. We love playing there too. But it is nice having the sureness of a game plan. You know what you are going to get," Foster said.
Meyer, meanwhile, acknowledged the All Blacks' experience and depth played a huge part in their success.
"When they bring in youngsters they play them around the experienced guys. They have a very experienced captain who leads from the front, so an unbelievable team and I think what makes them a quality team is that even on days when they don't do it 100 per cent right, they still win games.
"The great thing about their game plan is they know how to lift. Even when they are under pressure like in their last game, when it really mattered they came through with two tries; they make it look so easy. That's why they're the world champs."
- APNZ