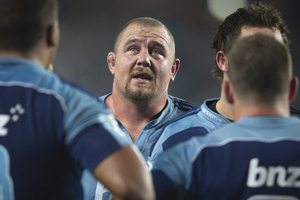 All Black prop Tony Woodcock has left the Blues to join the Highlanders.
Woodcock informed new coach Sir John Kirwan that he will be moving south for next year's Super 15, the Blues announced last night.
The move could set in motion a propping merry-go-round, with Ben Franks having gained a release from his Crusaders' contract. He is eyeing a shift to either the Highlanders or Hurricanes to move out of the shadow of younger brother Owen and concentrate on becoming a specialist tighthead.
Kirwan said that while it's a shame to see Woodcock go, he understands the reasons. "While he wanted to continue playing rugby and living in New Zealand, he was searching for something new to refresh and invigorate him and his rugby.
"Of course, I'd like to have him stay with us, but after 113 games for the Blues and a decade of commitment, sometimes a change is as good as a rest and I understand and support him in this tough decision."
Woodcock, 31, debuted for the Blues in 2002. "It's a big call and not an easy one to make," he said, "but I've made this decision because I think this is best for me and my family."