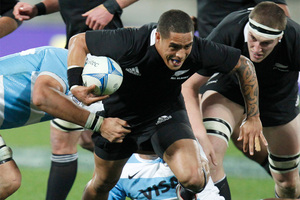 Good luck, coincidence, or seriously good planning - call it what you will - but the fact New Zealand has three aerobic halfbacks on the rise is rather handy.
It's been obvious watching the early ITM Cup games that the introduction of the new rule giving teams five seconds to clear the ball from the back of a ruck is going to have a significant impact on the type of No 9s teams are going to need.
From November, when the rules are implemented in the test arena, the demands are going to be exacting: it will be, literally, survival of the fittest. Which is good news for Aaron Smith, Tawera Kerr-Barlow and TJ Perenara. All three are whippets, dashing sorts who pass and run and cover the ground. They like to get to every breakdown - or most of them at least - hands on the ball and go.
That will be the game under the new rules - there won't be a choice which throws into doubt the future of one Piri Weepu who more than any halfback has infuriated with his desire to stand over the ball for an age.
And yet, while this brave new world doesn't appear to be ready to welcome Weepu, he provided a timely reminder that he's in possession of a skill-set that can be invaluable at this level.
The conditions in Wellington were not suited to Smith's pass and run offering. He needs a dry ball and a fast track to be at this best and for the first time this year, he struggled to make his presence felt.
Weepu, on the other hand, was tailor-made for those conditions. He waddled off the bench and much as he did against the same opponent a year ago, he took control.
Admittedly the All Blacks were breaking the resistance as it was, but still, there was an obvious impact from Weepu.
"I was particularly pleased with the impact of all the bench players," said All Black coach Steve Hansen, "and Piri gave a quality performance. Some of his kicking game was good, he organised well and we controlled the game for the final 30 minutes when he was on."
The question for Hansen is whether by November there is room in the mix for Weepu's game. Will Weepu's game even still work under the new rules or will the pace of it and lack of time at the base harry him out of business?
The All Blacks certainly look a better side when they play at tempo and Smith is firing the ball off the deck. Imagine in November if after 60 minutes of Smith at full noise the All Blacks were able to bring on Kerr-Barlow.
But in the back of Hansen's mind will be the knowledge that if things are tight, or wet or tense, Weepu could still be of enormous value.