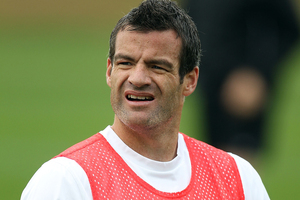 As the All Whites trundled off the plane at Auckland Airport yesterday afternoon, they might have yearned to return to New Caledonia where they spent three sun-soaked days, but they should really have smiled with comfort.
As much as the All Whites struggled with playing in 40-degree heat and 95 per cent humidity during June's Oceania Nations Cup in Honiara, the Solomon Islands will battle tremendously with the weather conditions in Auckland.
The forecast for Tuesday night's game at North Harbour Stadium is for frequent showers and cool south-westerlies. It's due to be 31C in Honiara on Tuesday.
Solomon Islands players have historically struggled playing away from home for a number of reasons. Very few of them play their football outside of the country - new Wellington Phoenix signing Benjamin Totori and Team Wellington midfielder Henry Fa'arodo are exceptions - and they have often spoken about how they dislike the cold.
It should warm the All Whites that little bit more.
"I think a lot of the guys would like some heat and prove a point that they can play and win in all conditions but, of course, we want all the advantages we can get and hopefully the Auckland rain doesn't disappoint," skipper Ryan Nelsen said.
Coach Ricki Herbert added: "Wet, cold, windy is certainly not going to phase us too much. It might them. It's completely different [to Honiara]."
It was something the All Whites who played in the Solomon Island in June talked about soon after their 2-0 semifinal defeat to New Caledonia.
"We thought, 'imagine if it was nice and wet and windy over in New zealand when we play them'," striker Shane Smeltz said. "I'm sure they are not going to like those conditions."
A win on Tuesday night will put the All Whites in control after two of their six games in this phase of World Cup qualifiers - the top nation from Oceania will take on the fourth-best side from North and Central America for a place in Brazil in 2014.
They know they will be in the box seat if they can grab two wins from two and it will do wonders for a side who were hurting badly after the Horror of Honiara.
"We are itching to get out there and play the Solomon Island because anything that resembles Honiara, we want to put right," Smeltz said. "Although we did alright against the Solomons [in the Nations Cup with two wins from two], we just want to forget about that tournament, move on and perform well in every game we play now. We are off to a good start."
Smeltz is also in form. The 30-year-old scored the opening goal against New Caledonia on Friday night and has four goals from his last seven internationals. He now has 21 international goals, joining Brian Turner in third on the all-time list for New Zealand, and is only one behind Steve Sumner and seven off the record held by Vaughan Coveny.
He scored eight goals against island teams in the last World Cup campaign but is less assured of a place in the team this time around with the likes of Chris Wood, Jeremy Brockie, Chris Killen, Kosta Barbarouses and Marco Rojas all battling for a start.
"Hopefully there are a few more goals left in me," Smeltz said. "It would mean a hell of a lot [if I could break the record] because I played with Vaughan and he was someone when I first came into the national team I looked up to. It would be a great achievement if I can get up alongside him.
"Goals are nice but it doesn't matter who gets them in the end. Let's get to the World Cup again."
A cold and rainy Auckland day on Tuesday will help in that quest.
- APNZ