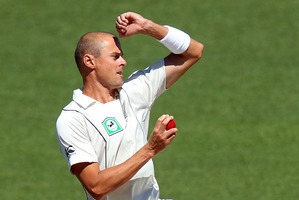 New Zealand test cricket followers may have glimpsed the near future at the bowling crease in Bangalore last week in the absence of Daniel Vettori and Chris Martin.
It was the second time in three tests 37-year-old Martin has missed selection, while Vettori, 33, has not added to his New Zealand record of 112 test caps in the last three matches because of a groin strain.
The pair have played together in 58 of New Zealand's 94 tests since Martin debuted in South Africa in November 2000. Vettori debuted against England in February 1997.
Martin's haul of 230 test wickets is the third most by a New Zealander behind Vettori (360) and Sir Richard Hadlee (431). Yet if the Bangalore pace selection was any gauge, he will struggle to crack the first XI when the likes of Tim Southee 23, Trent Boult, 23, and Doug Bracewell, 21, are available. Further factors complicating Martin's test future are Neil Wagner's eligibility and Mark Gillespie's return as the form pace bowler against South Africa over summer (provided he can regain full fitness).
Martin was dropped after being part of the attack which failed to curtail the West Indies in Antigua. They amassed 522 in the first innings and eased to victory. Martin's return for the first test in India coincided with the hosts making 438 and winning by more than an innings.
It backed up the series against South Africa where he took eight wickets at 40.62; a slackening from his previous 10 tests against the Proteas where he took 44 wickets at 24.59.
Martin was not solely responsible for New Zealand's recent bowling shortcomings but his age must influence the selectors. Ironically he took innings' best figures of six for 26 against Zimbabwe in January.
Coach Mike Hesson acknowledged it was a tough call to axe Martin after the Hyderabad loss but gave no guarantee of his return. He said the three pace bowlers who did the job in Bangalore showed courage taking on "players with fearful records on the subcontinent". That was to their credit when a lot of bowlers go away from India "with their tails between their legs".
He acknowledged Martin's experience was a key part of pulling the bowling group together and he would be part of the side "in the near future".
Vettori's test future forms a more complicated equation. His bowling strike rate has decreased as he struggles to spin the ball, crucially in the opposition second innings when pitches tend to deteriorate and spinners are expected to make profitable use of the rough. That is balanced by Vettori's miserly economy rate (hence his demand in franchised Twenty20 sides) and his courageous batting in various New Zealand crises. He is likely to continue winning the selectors' vote on loyalty alone.
Vettori's case is helped by the lack of a spinning heir apparent. In Bangalore, Jeetan Patel showed some guile in the second innings when he was treated lightly by Virender Sehwag and Suresh Raina before bowling them. He also forced a catch off a hesitant Cheteshwar Pujara.
Patel deserved those three wickets in challenging circumstances. He also picked up four in India's sole innings of the first test. However, at 32, he is unlikely to be a long-term successor to Vettori. Similarly the enthusiasm at the end of last summer around using leg spinner Tarun Nethula appears to have dimmed.
A fit Vettori appears guaranteed a place in the test team for now but his lack of wickets, particularly in the second innings of tests, is a concern.
In his last 11 matches (since New Zealand's last visit to India in November 2010) Vettori has taken just seven of his 35 wickets in the third or fourth innings of a test. He averages 49.14 in those second innings, has a strike rate of a wicket every 139 balls and an economy rate of 2.11 runs an over. His best was three for 71 against Zimbabwe in Bulawayo last year.
Compare that with the overall third and fourth innings statistics in his career where he has taken 134 of his 360 wickets at an average of 36.70, a strike rate of 85 and an economy rate of 2.58.
In short he has become more economical but less aggressive in the latter part of a match.
The selectors need to decide if that is something they can continue to tolerate.