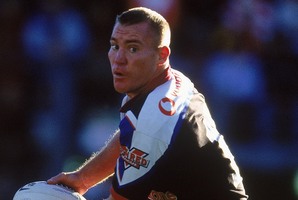 Over the next few months, as the Warriors (and their new coach) shop for recruits, they need to look for attitude as much as ability.
The Auckland NRL team desperately needs a hard man, an enforcer and would do well to heed the lessons from Warriors No86, 121 and 123.
Kevin Campion was Warrior No86. He was 29 when he arrived at Mt Smart, a grand final winner with a big reputation. He soon delivered.
Campion was granite tough, with an incredible work ethic. He set the tone and men like Monty Betham, Awen Guttenbeil and Jerry Seuseu followed, giving the Warriors a tougher edge. Campion was physically intimidating - who will forget his toe-to-toe fight with Shane Webcke in 2002, when the bloodied Bronco came off second best? - and mentally relentless.
He was around for only two years at Mt Smart but that coincided with their first finals appearance (2001) and their first grand final (2002).
Ruben Wiki (No123) and Steve Price (121) had a similar impact. They set new standards in training - slackness would not be tolerated - and Wiki in particular was a great role model for the young breed coming through. Success soon followed, with memorable runs to the finals in 2007 and 2008.
This season it hasn't been the same.
Micheal Luck, who filled a crucial role in terms of setting high standards, was away through injury for most of the season.
Sam Rapira is another who tends to be an enforcer and ensure the right attitudes are in place, especially at training, but was sidelined for almost all of the year.
Nathan Friend had a big influence but struggled with injury and was the new kid on the block while captain Simon Mannering had enough trying to lead the side and find a fix for their defensive issues.
There is an interesting parallel with the Blues, who struggled all season to compensate for the sizeable hole left by Jerome Kaino. It wasn't just on the field; Kaino used to set the barometer at training and his absence saw standards slip.
Though their forays in the 1990s were unsuccessful, perhaps the Warriors could look to the north of England for an enforcer figure. James Graham has been a huge fillip for the Bulldogs while the Rabbitohs have got great value out of Sam and Luke Burgess. Either way they need to find someone - a Michael Crocker type figure, a Nate Myles, a Glenn Stewart or an Anthony Watmough; Jeremy Smith would have been perfect when he became available at the end of 2010 but the Sharks got there first.