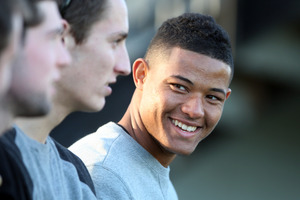 It probably didn't occur to him at the time but James Musa's surprise signing with Fulham is partly thanks to Australia.
Musa's move to the Premier League club last week is the strongest representation yet of the seismic shift that has taken place in New Zealand football over the past five years.
Since Australia football left Oceania for Asia in 2006, leaving us top dogs of the Pacific, more opportunities have risen for young players.
Before 2006, New Zealand was basically irrelevant on the world stage. We had qualified for just one age group World Cup, the Under-17s tournament in 1997. It was forgettable, as Joe McGrath's team lost 4-0 to Mali and 5-0 to Mexico before being whacked 13-0 by a Spanish team that featured Xavi Hernandez and future Real Madrid legend Iker Casillas on the bench.
Since Australia's departure New Zealand has qualified for every age-group world cup (and the 2010 Fifa World Cup and two Olympic Games), except for the 2009 Under-20s.
And we are no longer easybeats; our youth teams expect to be competitive and usually come away with at least one result. The belief becomes self-fulfilling and our squads are no longer beaten before they started.
"In the past our sides would go into a game cold and be 2-0 down before they realised they could compete," said former All White Steve Sumner, "and of course by then it was usually too late."
As they have impressed people have started to notice. Apart from the presence of scouts, these games are broadcast around the world, opening up opportunities. As a side benefit, once Kiwis arrive for a trial, they are much better equipped to compete and impress than in the past, thanks to their international experience.
It happened from the outset. New Zealand qualified for the 2007 Under-20 World Cup and enjoyed a reasonable campaign with narrow defeats against Portugal (0-2), Gambia (0-1) and Mexico (1-2). Canterbury United defender Jack Pelter was the sole goalscorer and found himself at Sunderland, where he played for a time under Roy Keane. The recent examples of Tim Payne and James Musa are the most relevant.
Payne had been a standout in local football but was noticed internationally after starring at the under-17 and under-20 World Cups last year. The roles of Ryan Nelsen and Danny Hay is getting him a chance at Blackburn can't be underestimated but the international experience gave him the template to succeed.
"After those tournaments in Colombia and Mexico I was a lot more confident," Payne told the Herald on Sunday earlier this year."I knew I could hold my own at that level which was a big realisation. You always believe in yourself but when you have faced good players from all over the world that belief becomes more real."
Musa's trials in London were facilitated by former All Whites coach Allan Jones but his impressive displays at the 2011 Under-20 World Cup were a strong contributing factor. He played all three matches, part of a backline that only conceded two goals. We still retain a somewhat immature attitude towards Australia in sport, as shown by our gleeful schadenfraude after their early struggles at the London Olympics but football fans should be eternally grateful. The door they left ajar has now been barged through on a regular basis.