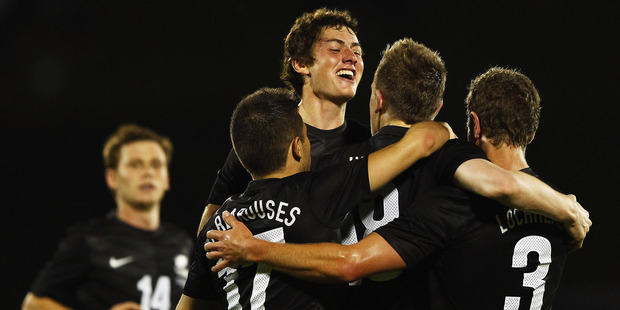 New Zealand Football is confident it won't burn any bridges with overseas clubs, despite the increasing demands placed on our international players.
The All Whites flew in from Noumea yesterday afternoon and their match against the Solomon Islands on Tuesday in Auckland will be their second in five days.
On top of that tough schedule, European-based professionals such as Ryan Nelsen, Winston Reid, Chris Wood and Kosta Barbarouses have to cross the globe twice in a week, and despite every possible precaution, are invariably delivered jetlagged and weary back to their clubs.
The All Whites have played nine matches in 2012 and have at least three more before the end of the year. Next year, there could be up to 10 games, including (hopefully) four more World Cup qualifiers.
In the past, top players wouldn't always return for every game, even those on the World Cup path. Battles with the Island nations would often be mostly left to Australasian-based players, with the big guns returning for the usual battle with Australia.
Even last time, the likes of Nelsen and Simon Elliott featured only towards the latter stages and played just two of six matches in the first stage of qualifying.
The situation is different now. Partly as a result of the Honiara debacle in June and partly the realisation that the Island nations are improving. NZF and coach Ricki Herbert have demanded all players are committed and available the entire campaign. It presents an interesting conundrum. Clubs have to respect Fifa windows but hold plenty of power over players.
In the past there was give and take on both sides, especially as geography makes any match for New Zealand a complicated exercise.
The All Whites also want to build rhythm and cohesion, which comes from playing together in the same squad. But if Queens Park Rangers or West Ham are enduring a difficult period in the English Premier League, they may frown on Nelsen or Reid jetting off on a 60-hour round trip to represent their country. Players such as Nelsen, Reid, Wood and Barbarouses must also be aware of their position, knowing that if they lose their club spot, it could be extremely hard to get it back.
"[The situation] is not ideal obviously but it's life," Nelsen told the Herald on Sunday. "You just have to get on with it, be as professional as you can and hopefully your club manager is not mad at you when you get back. It's hard - [especially for the younger guys] not just getting your place back but financially you get hit as well when you are not in the team. In many ways it's not ideal, but we all love playing for our country."
It is also important for New Zealand football to remain on good terms with the overseas clubs. Assuming the All Whites emerge out of the Oceania qualifying leg unscathed, the team will need a series of friendly matches before the winner-takes-all battle with the Concacaf representative towards the end of next year. Some of these matches will be across Fifa windows - some won't - but all will require understanding from the clubs to release their prized assets.
"We are in conversations with the clubs all of the time," NZF chief executive Grant McKavanagh said. "I think we have become a bit more assertive around things like Fifa windows but there is genuine respect on both sides. We have had a lot of conversations with the players too. They are committed to coming back for these games - they know how important they are."
Making another World Cup is not just crucial for maintaining the momentum of the sport in this country it is also almost necessary to balance the books. According to McKavanagh, NZF sustains itself on an annual turnover of around $9 million-$10 million, whereas New Zealand Cricket fluctuates between $20 million-$40 million and rugby can count on around $90 million. Without the Fifa cheques, it would be hard to maintain the programme for eight international teams.
"We have so many more teams on the international stage and we have to be so careful with every dollar," says McKavanagh. "To finance our business, in some ways we have to get to World Cups, so it is all important for us. The guys realise what it means to us but probably more important is what it means to them. You don't get that many opportunities to get to a World Cup as a player.
"At the moment, we have a great bunch and they are committed to doing it for each other as well as the country."
Friday's result showed the value of bringing the big guns back. With Nelsen and Reid restored to the defence, it looked rock solid. Gone was the uncertainly and hesitation at the back that plagued their Nations Cup campaign and goalkeeper Mark Paston barely had a save to make.
Herbert also heeded some lessons from Honiara, where his team was often second best physically by leaving players like Marco Rojas and Barbarouses out of the starting 11 and not using them until late in the match. Their time to shine will come, with their swift twinkletoes sure to feature strongly in this campaign but last Friday was not the place for the dynamic pair.
The All Whites also looked more prepared; the review into the Nations Cup failure found that scouting of the opposition had been an afterthought so didn't happen whereas they benefited from some homework on Friday and knew what to expect from their opponents.