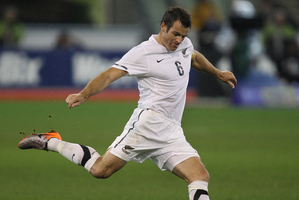 Qualification for the World Cup play-off is achieved over six games, but a win for the All Whites against the Solomon Islands in Auckland on Tuesday night will well and truly put them in the box seat.
The All Whites opened the next phase of World Cup qualifiers with an important 2-0 win over New Caledonia on Friday night - the same team that beat them in the semifinals at June's Oceania Nations Cup in the Solomon Islands - and they take on a Bonitos side who beat Nations Cup winners Tahiti by the same score in their opening match.
If they can win at North Harbour Stadium, the All Whites will be the only side with a perfect record after two games and will fancy their chances of eventually moving through to tackle the fourth-best side from North and Central America to play off for a place at the 2014 World Cup in Brazil.
Ricki Herbert's side know they can't assume anything - that was brought into sharp focus in Honiara - but a few things have changed from those dark days.
A home-and-away format suits them much more than a tournament like the Oceania Nations Cup, and they have considerably more depth than the island sides as well as experience of the travel demands.
"It was a good professional effort," Herbert said of Friday night's win. "Everybody dug deep and we probably could have won by a few more. It was a good solid start, good three points and another three on Tuesday and I think you are in the driving seat."
Defenders Winston Reid (hamstring) and Tommy Smith (bruised foot) have niggles but both are expected to be available on Tuesday. The rest of the squad are otherwise fit and their confidence will have improved after the bruising it took in Honiara.
While the All Whites were confident of success against New Caledonia, there would have been some residual doubts lingering from June and a convincing win after goals to Shane Smeltz and Chris Wood would have eased fears.
"We had to really focus," skipper Ryan Nelsen said. "What happened in the Solomon Islands happened, that's life, but we refocused and we have to think about the big picture now and that's the World Cup campaign. The island nations have always been very athletic but they are organised now.
"They are tough teams, tough games now." APNZ