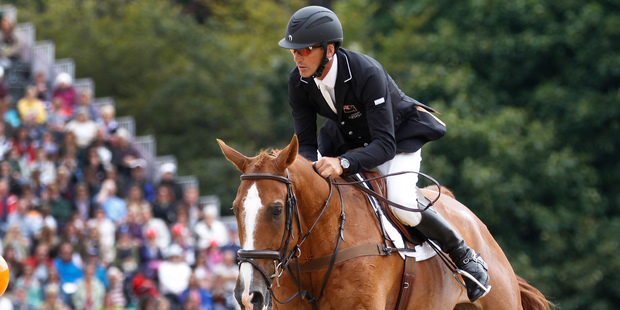 Champion eventing rider Andrew Nicholson says upcoming talent needs moral as much as monetary support as equestrian shapes as a candidate for increased taxpayer investment.
The 51-year-old has spoken after securing his third Burghley title and earning a team bronze for New Zealand at the London Olympics.
High Performance Sport New Zealand reveals the 2013-16 Olympic funding at year's end.
The medal means equestrian looks set to usurp current targeted but medal-less sports such as swimming and triathlon for investment across the entire Games cycle.
Equestrian Sports New Zealand's eventing campaign received $4.2 million (or five per cent of the HPSNZ investment budget) from 2009-12 on a year-by-year basis.
Nicholson is determined to attend an eighth Olympics at Rio after finishing fourth in the individual ranks at London. He says "that alone" will motivate him over the next four years.
However, he admits bringing a younger generation through is a priority and that the first challenge in doing so is to identify hunger.
"[ESNZ] needs to support those who want to live the dream and make it work. You don't necessarily need to pump that much money into it. Moral support is required more than anything."
ESNZ chief executive Jim Ellis says it's a matter of balance.
"We expect our funding to be somewhere north of its current level but how you use it is the trick," he says. "First, we want to reaffirm a UK base to make sure the next wave of riders can transition seamlessly.
"Second, we want to help the whole high performance squad concentrate better on the sport. That means assisting them with their businesses so they can find more time to ride.
"It can be a tortuous process for our emerging talent. You can't wrap them in too much cotton wool but we need to commit resources to help set up bases for their horses before withdrawing the apron strings. The business aspect goes hand-in-hand with the sport.
"There is traditionally a period of about two years where newly-shifted riders suffer a downturn in performance. We need to help them hit the ground running so UK and European owners will be willing to let them ride their horses."
"There is no easy way to do it," Nicholson says. "You can't short circuit such an established system [in Europe and Britain]. It comes down to hard work, but you've always got to believe.
"It is easy to be a big fish in a small pond back home. I don't want to dishearten aspiring applicants but they need to get on the bigger circuit and not be too depressed if they don't succeed initially."
Nicholson is a handy case study. He left a Waikato dairy farm as a teenager and ended up working as a groom to Mark Todd when he won Badminton in 1980.
Now he runs a farm in Wiltshire where owners queue for him to ride their horses. His CV lists three Burghley titles, three Olympic team medals and an individual world championship bronze.
"You've got to appreciate the horse is your main tool," Nicholson says.
"I learnt the trade with people's cast-offs; the ones successful riders of the time didn't want.
"I don't get offered those now. Owners are a bit more wary because I tell them straight whether their horse has what it takes."
Nicholson wants to help mentor the next generation.
"I feel like I get on well with the younger bunch. I like it when they ask about things. I don't want to be a coach because I still want to compete, but I'm happy to offer advice. I know how important it is to have a strong team around you. It helps individual performances, knowing others want to push you."
At 28, Jonathan Paget (known as Jock) is the obvious heir apparent. He finished 10th (ahead of Todd in 12th) at London but the likes of Jonelle Richards, 31, Lucy Jackson, 34, and Clarke Johnstone, 25, are progressing on the European scene.
"Jock has a cool head on his shoulders," Nicholson says. "He listens and watches everything. He is not afraid to make mistakes and learn.
"He's got a big future but a bunch of others are good, too. It's a credit to the training system in place over the last 18 months. Jonelle will hopefully use the Olympics [she finished 32nd] to get a break, Clarke's had a bad run [after his ride Orient Express was injured in the lead-up] but he's hopefully going to end up the better for it; he knows how to ride. Lucy looked good at Burghley [she finished 19th on Willy Do and earned a bursary as the highest-placed competitor in her first four-star event]," he says.