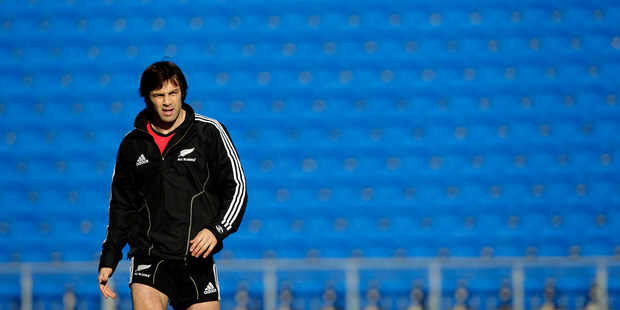 For someone touted as a centre with strong rugby vision it is remarkable that Conrad Smith operates without 20/20 eyesight.
He had some previous issues after head knocks but a visit to a specialist soon after the Super 15 series discovered he needed surgery for a detached retina.
Smith had "floaters" in his left eye before but this time his vision was sensitive to light.
"I was lucky in a way that I got knocked out," he said. "I went and saw the specialist who put silicone plastic around the eye to let it reattach itself and then they lasered it back on."
Smith reckons his sight is as good as it was but will not get a proper idea until he suits up tonight at the Cake Tin against the Pumas.
The All Blacks centre trained last week with Wellington and now the test squad but has not felt the thrust of a rugby game for more than six weeks.
"It feels as good as it was, there are the odd floaters but nothing which suggests any dramas."
So what, if he pardoned the pun, did he see in the Pumas?
Smith thought more of what they showed at last year's World Cup which would present a different set of problems from those exhibited by the Wallabies.
"They pride themselves on intensity and physicality and will want to match us there or gain an edge and play it at their pace.
"They will test us in the lineouts and with some kicks and if we get caught short on players they can exploit that with an overlap or if they create space.
"We have to stay calm, not get frustrated and stick with what we want to do when we get the ball."
That brings five-eighths Aaron Cruden right into the frame as the new organiser of the plays. If possession is slow or fractured he must be patient, he cannot force the plays.
If the All Blacks start well, Cruden's attacking approach will deliver more defensive headaches to the Pumas than Daniel Carter.
Wider out, Cruden will have Smith as his senior lieutenant to gauge the plays.
It is a role the 58-test veteran accepts as a by-product of his experience and one coach Steve Hansen acknowledges.
"Shag does not sit me down and direct me too much. But we talk a lot about the game and you get a sense from that what he wants me to offer."
Smith goes about each test with the same focus. That did not change.
He tried to repeat his work, help his team-mates and he would be commended if others around him played their roles. That would be his strategy tonight.
A broken leg in 2006 meant he missed a trip to play the Pumas on their home dirt but he met them in last year's RWC quarter-final.
After the tournament he visited Argentina as part of a trip including the States, Europe and Africa.
It was a real unwind after the pressures of the World Cup.
He'd missed the chance before because of his rugby and needed the complete three-month break to convince himself he was happy to stay and play in New Zealand.
So how did he define his role in the All Blacks?
"I see it more about what do I see about myself, what are my strengths, and things like that?
"I've always felt that was the easiest way to look at it.
"Then you don't get into the trap of trying to play someone else's game. That can be dangerous."
But the centre was always looking to reinvent his game or refine it.
"I have a good work rate and while I might not get the ball, that is helping to be part of a structure."
Six weeks off had sharpened his hunger even more.
"Well-timed injury breaks are gold because if you don't have them, and try and truck through a whole season that can be tough."
Smith says that when your motivation got injured it was harder to recover from that than a hamstring tear, but as long as you recovered and got picked again, you fed your hunger for the game.
"I am fortunate. I do not obsess and because I have been around for a while, I can relax and trust that my game will come back."