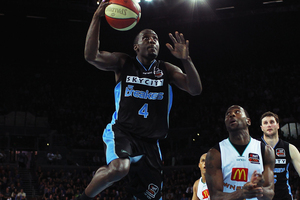 Cedric 'Action' Jackson has not given up on his NBA dream, but is quite comfortable being back 'home' in New Zealand playing for the Breakers in the 2012 NBL.
The 26 year-old American point guard recently returned from a stint trialling with the San Antonio Spurs in Las Vegas and despite not getting signed for the NBA, returned confident that one day he will make it to that next level.
But in the meantime he is content on helping the Breakers win an unprecedented third successive ANBL Championship and personally improve on a debut season where he was the club's MVP and was named in the ANBL All-Star Five.
"I definitely can play out there in the NBA, it's just a matter of time and who is looking," Jackson said.
"Everybody there knew about New Zealand and said I'm in a great place, but now my focus is just getting better here, so I just have to let everything play out."
The cut-throat nature of the NBA offseason can be a testing environment for players searching for a team, and Jackson was one of many trialists competing for a career defining contract.
"Some of us were there trialling to make the team, some were showing what they can or can't do and some were just trying to keep their job. It was a lot of fun, a great opportunity and I know if I remain focused that they are always looking for new additions to the club.
"I was happy with the way I played there. I had a really good game in the fourth match - it's a different style, they are more athletic but the game is slower."
Jackson's focus and desire to improve was made crystal clear on the Breakers' first day of pre-season training last week, as he called aside assistant coach Dean Vickerman to spend an intense twenty minutes on his jump-shots, an area which troubled him last year - while the rest of the squad warmed down.
"I was just working on areas I can improve, I'm always making new goals for myself and always trying to stay sharp," he said.
Jackson's shooting is the one area of his game which may be holding him back. He shot 25.5% from three point range last season where 35% is considered good and 40% excellent, or NBA quality.
But his dribbling, passing and driving to the rim are exceptional and will be a core component of the Breakers success this year, when they kick off the new season against the Perth Wildcats on October 5th.
"Our mentality is that we want to get better than we were last year. We are a brand new team and last year is over. The guys are all excited about what we have here and we are also trying to help some of the younger guys learn so they can take a load from us."
Jackson said he was very comfortable coming back to New Zealand after his American sojourn and has a really close bond with his Breakers team mates.
"I felt home in New Zealand after my first two months playing last year. I'm always learning things off the guys on and away from the court and they are doing the same. That's why I love this ball club."
If Jackson does make the step up to the NBA in future years he will be remembered as one of the franchises' greatest imports, but alternatively the Breakers may have the settled 6'3 American for years to come.
Upon returning to New Zealand from the USA he tweeted, "Home sweet home! #NZL."
- APNZ