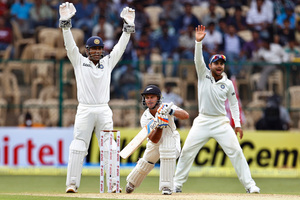 New Zealand came out on the wrong end of an epic tussle with India, but they did restore some credibility to the test side after a disastrous year in the whites.
The magnificent second test arrived at an absorbing conclusion in Bangalore today, with the tourists unable to produce one final momentum swing to level the series.
Instead, after India's five-wicket win, they will head into this weekend's first T20 having been swept 2-0 in the test series, and with only one win in the longest form of the game in 2012 - against Zimbabwe in January.
Make no mistake, though, this was a vastly different performance from the one produced in the Hyderabad humiliation, or the two displayed last month in the Caribbean.
New Zealand played with a positivity that belied their recent form, pushing their opponents onto the ropes on a number of occasions without ever being able to land the knockout blow.
With bat and ball, the losers played some of the best cricket of the match. Attacking cricket which forced the more illustrious home side to react. Unfortunately for New Zealand, those reactions were swift and, in the end, decisive.
New Zealand are still nowhere near the top test sides in world cricket, and one battling defeat hardly makes up for a streak of futility which threatened to render irrelevant their presence on the New Zealand sporting scene.
But some of the gloom surrounding the side was lifted at M Chinnaswamy Stadium, even if they failed to get across the line.
Ross Taylor was disappointed immediately after the match but though there were positives to take into their next test series in Sri Lanka later this year.
"I'm just proud of the whole team, how they fought and I'm sure we'll come back and learn from this," he said.
That seeds for his side's failure in this match could be found across all four innings, not just during today's climax.
Their batsmen, led by Taylor's brilliant century, were bundled out too easily on the second morning, leaving their total maybe 40 or 50 runs short.
The bowlers then allowed India's middle order to make too much progress with a softening ball. Lines were inconsistent and stretches of prolonged pressure were absent. And once Tim Southee's seven scalps had seen them off, a 33-run partnership for the final wicket didn't help, either.
With a lead of 12 runs at the halfway break, New Zealand's top order declined the opportunity to set up an insurmountable total and, with it, a certain victory. Several got in but none pushed on for a defining score.
But it must be pointed out, India's specialist batsmen were largely afflicted by the same problem today.
Small margins, maybe. But, when added together, probably the difference between a fourth straight defeat and a first victory in India since 1998.
In the end, 261 runs were too few on the board, even if India's successful chase was a record on this ground.
After Virender Sehwag and Gautam Gambhir set about the chase as if it were day five, racing to 77 from only 11.5 overs before the first breakthrough was made, New Zealand were left seeking a miracle of Hobart proportions.
And for a brief stretch in the final session, that miracle looked if as if might arrive.
Sachin Tendulkar and Cheteshwar Pujara guided India to the tea break needing only 114 with eight wickets in hand. But once Trent Boult become the third Kiwi seamer to bowl out Tendulkar in the last three innings (only the second time in Tendulkar's career that has happened), the tourists sniffed an opening.
Two quick wickets from Jeetan Patel, giving him three for the innings and casting him in the potential hero role, further widened that opening before Virat Kohli (51no) and MS Dhoni (48no) slammed it shut.
"We always knew we were close," Taylor said. "But the way Dhoni and Kohli came out and batted was outstanding and took the game away from us."
- APNZ