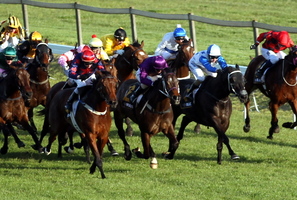 Okay, this is not a new line, but things are shaping up like it could be one of New Zealand's years in Melbourne this spring.
Yes, it was said many times around the anchor of Xcellent who, apart from his magnificent third in Makybe Diva's third Melbourne Cup was, unfortunately, never seen at his best in front of the Australians.
But after the way Ocean Park, brilliantly ridden by last season's top jockey Lisa Allpress, won Saturday's $200,000 Makfi Challenge at Hastings and strong supporting roles from Guiseppina and Mufhasa, New Zealand is not badly placed to take its share of Melbourne tricks.
And then there is He's Remarkable, who failed to handle Saturday's track and is expected to take massive improvement from the race.
Ocean Park's part-owner and trainer Gary Hennessy has all along been so determined to take on Melbourne in the spring he withdrew the horse from the last two legs of the Hastings treble before he raced on Saturday.
There is still a final decision to be made between the 2040m of the Cox Plate and the 2400m of the Caulfield Cup.
New Zealand's most recent record in both races is around the same - slightly distant.
We have not won the Caulfield Cup since mighty mare Ethereal made that her first leg of the Caulfield/Melbourne Cup double in 2001.
Last year, New Zealand didn't manage to get a horse into the field.
Sunline, in 1999 and 2000 was our last victor in the Cox Plate, although Jimmy Choux last year was desperately unlucky eventual winner Pinker Pinker copped a miracle run up the inside rail from the 500m to grab him late in the home straight.
Before Sunline, Solvit (1994) and The Phantom Chance in 1993 were the previous winners for New Zealand.
Gary Hennessy says he is more than a little encouraged by the fact Australian Hall Of Fame trainer Lee Freedman clocked Ocean Park in training in Australia and told Hennessy he had a Cox Plate horse on his hands.
This might be the perfect year to target the Cox Plate, rather than the Caulfield Cup, which will include a number of powerful European visitors.
After Saturday's win, Melbourne's leading betting agencies tightened Ocean Park into $13 equal third favourite with Mosheen for the Cox Plate and behind Pierro ($5) and More Joyous at $7.
The top of the Caulfield Cup betting market is Green Moon (placed in the race in 2011) on $11, Marwingo ($15) with last year's winner Southern Speed and Ocean Park together on $17.
Guiseppina is almost certain to be in Melbourne as the spring progresses and, provided she gets firm footing, she will show her class.
James McDonald and co-trainer Steven Ramsay were delighted with the mare's fifth placing, two lengths behind Ocean Park.
Both agreed that last year she simply would not have tried on the rain-affected footing she struck this time.
"At least she had a go," said McDonald, something that encourages the team as it goes forward.
Ramsay said he got excited for a few strides. "I admit my heart missed a beat at the 200m when she made her dash. I thought this is going to be another Telegraph result, but the ground eventually tied her up."
Much the same can be said about Mufhasa, who tried as hard as always after not really getting things his own way for most of the race. He hadn't long been in the position he loves best - outside the leader - when the attacks started arriving. He was just 1.9 lengths from the winner.
Xanadu's second placing was fabulous and she will be in perfect shape when she tackles the more favourable 1600m of the Windsor Park Plate next start.
Co-trainer Bev Kelso said despite reports to the contrary, there are no plans to have Xanadu in Melbourne during the spring.
"There are a lot of good metric mile races here for her, like at Riccarton."
Kate is another Hastings performer who will end up in Melbourne in a month or so.
Co-trainer Wayne Hillis has long been keen to aim the filly at a race like the Victoria Oaks over the Melbourne Cup carnival at Flemington.
Kate found the 1200m of the 3-year-old race at Hastings a little short of ideal, but well ridden by apprentice Alex Forbes she outlasted the favourite Dorian Grey and James McDonald.
"She'll probably run in the Desert Gold Stakes then head to Melbourne," said Wayne Hillis.
Wanted - a new rider for Guiseppina in the $200,000 Windsor Park Plate on the second day of the Hastings spring carnival on September 22.
James McDonald is almost certainly going to be required to ride in Sydney that day, according to Guiseppina's co-trainer Steven Ramsay.
"There is no suggestion of who will ride her at this stage,"said Ramsay yesterday after Guiseppina returned home following her gallant fifth in the Makfi.
Top jockey James McDonald left yesterday to base himself in Sydney at least for the remainder of the spring.
"It's going to be a lot easier for me to be based in Sydney and return to New Zealand for the appropriate rides than it would be to do it the other way around," said McDonald before he flew out.
There had been thoughts of sending Guiseppina to Melbourne after Saturday's race. "But Peter [co-owner Peter Vela] seems very keen to run in the mile [Windsor Park at Hastings]," said Ramsay.
"No decision has been made for where she will go after that race."