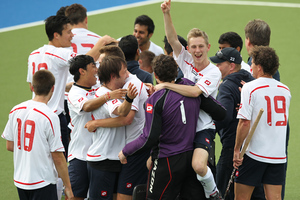 For years they were the powerhouses of New Zealand hockey. After two hard-fought national league finals yesterday Auckland and Canterbury were back at the top.
Canterbury's 3-1 win over Auckland in the women's final saw the K Cup heading to Christchurch for the first time since 2002, while Auckland claimed the Challenge Shield with a golden goal win over tournament surprise packet Southern to claim the men's Challenge Shield.
For Canterbury it was a deserved triumph, completing the National League with a rare nine-from-nine winning record.
Handed the early lead when Olivia Merry was credited with an early goal after it appeared to have been scored from an Auckland stick, the southerners went to the break 2-0 ahead when Pippa Hayward swept home from the edge of the circle.
Auckland gave their supporters in the big crowd at Lloyd Elsmore Park some hope when Kate Hollywood found the back of the Canterbury goal eight minutes into the second half but any chance of seriously threatening was lost by too many misdirected passes in midfield.
Canterbury held firm with experienced former internationals Stacey Carr and Sophie Devine, a rock on defence, playing a key hand.
Auckland's failure to clear from a messy scramble in front of their goal handed the visitors an easy, and decisive, third goal through Tenille Burnside with 23 minutes to play.
The men's final began at a cracking pace, Auckland ahead 1-0 inside 30 seconds when Marcus Child was left unchallenged as he pushed home from close range.
Southern had an early penalty corner chance but Kane Russell's drag flick was saved with a deft stick block by Auckland goalkeeper Devon Manchester. The awarding of the penalty corner was, not surprisingly, challenged by the hosts as were a number of other decisions.
Southern, on the other hand, simply got on with it and kept themselves in the contest with their persistence and determination against the odds.
The Auckland strikers were frustrated at times by wayward long balls played out from defence, while both teams were let down by too much turnover ball in midfield.
From the second of two penalty corners they won in the second half, Southern grabbed a 53rd-minute equaliser when Russell sent his drag flick high into the Auckland goal.
With no further scoring, the game went to nine against nine golden goal extra time. From their first raid after just 18 seconds, Auckland scored. Jared Panchia had his attempt blocked but the ball found Wickham's stick and he calmly slotted the winner and joined his teammates in celebrating a third NHL title.
Going into the final as the warmest of favourites against a team playing in their first, Auckland could have lacked motivation but coach James Grant said that was not a problem, especially with a young team.
"Twelve of our 18 players are under 21 and only five over 22," said James, who paid tribute to the part played by his Australian guest players. "I lost Sanjay Patel with a broken foot six weeks ago and needed someone with experience to fill that gap in midfield. Brent [Livermore] has done a superb job for us and has worked in well with the rotations we have been using."
North Harbour salvaged something from the tournament by winning both yesterday's bronze matches with the men taken to sudden death golden goal by Capital in a 10-goal thriller.