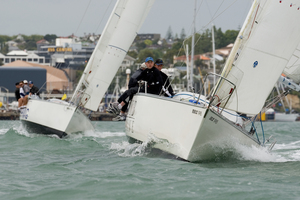 While the focus has been on the America's Cup lately, New Zealand's prowess in other forms of match racing seems as strong as ever.
The World Match Racing Tour heads to St Moritz this weekend, with a distinct Kiwi flavour to the event. For the first time in over a decade, there will be three New Zealand crews competing at the picturesque Swiss venue.
Along with tour card holders Phil Robertson (Waka Racing) and Laurie Jury (Kiwi Match), young skipper Josh Junior and his Wellington Spirit team make their bow on match racing's grandest stage.
Junior's team qualified after a strong showing in 2012 and hope this is the first step in a grand plan. Wellington Spirit has been set up as a franchise and the aim is to eventually run teams in match racing, ocean racing and Olympic sailing. The WMRT is the first step. They want a permanent tour place by 2014 and have plans to win the championship by 2016.
"I think it is realistic," Junior told the Herald on Sunday."Once we get to a few more tour events, we can start to challenge the more experienced teams. In any given race, we know we can win against anyone, but concentration and consistency are key for us at this stage."
The presence of national rivals adds fuel to the fire.
"It's cool to see two Kiwis doing well on the tour and good luck to them but we're keen to get out there ourselves [and] show that we can do just as well, if not better," says Junior. "We always want to beat the other Kiwis and once we're out on the water, we'll treat them like all the other teams."
Junior was ranked second in the world in the Laser Olympic class last year, is a national youth match racing champion and is part of the national Finn team preparing for the next Olympics. Team-mate Matt Steffan is the current NZ national match racing champion and also won the youth event twice.
Like most emerging teams, finance is an issue. The team has travelled on the cheap and have come up with some innovative fundraising methods, including corporate races in summer - where companies race around Wellington Harbour with a Spirit member on board.
Junior admits he has been blown away by the surroundings and atmosphere in Switzerland. "It's our first Tour event and it's great to see the intensity of everything here, with the media interest and the whole set up of the regatta," says Junior.
Meanwhile, Robertson hopes to get his boat's campaign back on track after a disappointing round in Chicago. His team are currently one point off third place and on target for a top three finish.
"We've definitely had a really great start to the season, the best we've ever had," says Robertson. "[Having the] other Kiwis around also motivates us because you always want to be the No1 team in your country. For New Zealand sailing it's a great situation; there are a lot of young match racing teams coming through, [there are] four or five in the top 20 in the world."
At the end of the third round of qualification, Jury was the best of the Kiwis with a seven win-three loss record, while Robertson and Junior were further back with just three wins to their name.