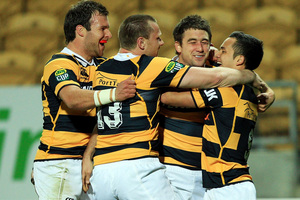 Taranaki 49
Tasman 40
The Ranfurly Shield has seen some wonderfully rugged and dour encounters in its 109-year history. This was not one of them.
The tone of the match was set in the opening 30 seconds, when Blade Thomson rounded off a break by the classy Beauden Barrett, and continued at an incredible pace.
Taranaki had their four-try bonus point inside 25 minutes and Tasman weren't far behind as both teams played attacking, running rugby. Even props like Tasman bookend Tim Perry were found finishing off 60m breaks in the tit-for-tat game.
Traditionalist might have bemoaned the lack of defence, and it was often way too porous, but it proved to be an entertaining, if somewhat crazy, contest.
A mammoth 62 points were scored in the first half, which would have proved a nightmare scenario for television directors trying to cut a halftime highlights package.
It would have shown a brace of tries to Kurt Baker, the first an excellent solo effort from 65m out, as well as Thomson and Waisake Naholo for Taranaki and touchdowns for James Lowe, Campbell Johnstone and Perry for Tasman.
It was almost easy to forget the serious business of the Log o' Wood was at stake.
The second half took some time to get going - 67 seconds - before Quentin MacDonald scored as Tasman hit the lead for the first time in the match but it was short-lived as Barrett then landed four penalties to give his side a good buffer.
It looked like it might be decisive, especially with Makos replacement Vernon Fredricks sinbinned, but Tasman wouldn't yield and even scored an excellent try to Vernon Malneek when down to 14 men to reduce the gap to 44-40.
Their attack-at-all-costs approach was admirable but also flawed when they turned down as easy shot at goal with 10 minutes remaining or took a quick tap when a nudge into the corner was the better option.
In the end, they will probably go down in the history books as the team who scored the most points in a Shield match but still lost and the only thing they gained, other than a few admirers, was one bonus point.
Barrett settled the result when he scored two minutes from time and the relief around Yarrow Stadium was palpable.
The match finished with an untidy scuffle. It was a wonder they had the energy for it.
Taranaki 49 (Kurt Baker 2, Blade Thomson, Waisake Naholo, Beauden Barrett tries; Barrett 3 cons, 6 pens) Tasman 40 (James Lowe, Campbell Johnstone, Tim Perry, Quentin MacDonald, Robbie Malneek tries; Andrew Goodman 3 cons, 3 pens). HT: 32-30.
- APNZ