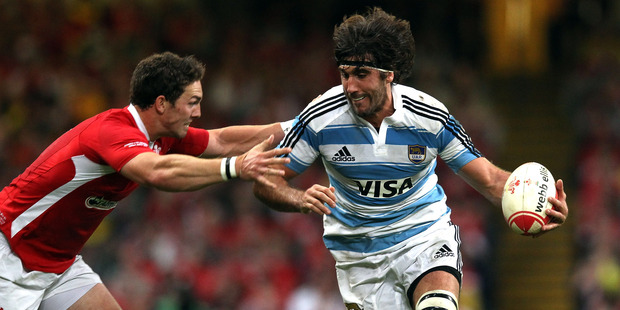 Former All Blacks coach Sir Graham Henry will be with them as technical consultant for the whole test week - but expect few changes in the Pumas' style when they play the All Blacks on Saturday, even after Henry's desire for a more expansive game and even with a strong Kiwi influence that includes conditioning coach Simon Fathers.
Don't expect to hear anyone from Argentina talking about beating the All Blacks either. Playing the All Blacks in New Zealand strikes most observers as a bridge too far right now - although the Pumas camp solidly believes their time will come.
While they are not mentioning the 'W' word, they are characterising their inaugural Rugby Championship campaign as a quest to be a better team after every outing.
"Our first test against South Africa gave us a few things to work on and, coming back to Argentina, we managed to change things around and were more competitive," said Puma coach Santiago Phelan. "We now want to move forward after the second game."
However, that doesn't mean there will be much new from an Argentine team that is not renowned for being expansive - the unkind would say "one-dimensional", the more gracious would say they were "playing to their strengths".
Henry referred to that back in June when it was announced he would spend seven weeks with the Pumas before and during TRC.
"My job with the coaches is to exchange ideas, and help them improve their game," he said at the time, adding he felt he could help lift them to another level. Praising the Puma "character, personality and fighting spirit", he added: "They defend very well, they only need to score more tries, that's all."
Los Pumas play a style based around their passion and commitment to each other, about putting the body on the line at all stages. Yes, those sound like rugby cliches but the Pumas drew 16-16 against the Springboks last week - the first time South Africa had not won against Argentina in 14 internationals.
Their manic defending showed how committed they were to stopping the Boks and they exerted a tactical control that was as surprising as watching South African coach Heyneke Meyer's team lose the plot a bit. The Pumas might have won that match had it not been for a charged-down clearing kick against the run of play - leading to an individual try to Francois Steyn - but the Boks did come back from 13-3 down and the Pumas know they must work on pressing home their advantage.
"We have looked at the All Blacks and found some ways that we want to play the game; there are some areas that we think we could gain the upper edge," adds Phelan.
Argentina know that slowing the game to their rhythm is paramount and that they must ensure they use the minimum amount of players for the breakdowns, where they will struggle against Richie McCaw and co.
Henry will spend the fourth of his seven-week gig with Argentina this week and he might want to stress to Phelan's team the need to score tries. But, as Argentina try to find their feet against the first, second and third-ranked nations in the world, they will revert to where they feel more comfortable.
"We are trying to be more positive in attack and the try we scored against South Africa a week ago, and some other moves, was of good quality," Phelan said.
Argentina also have their best players available - loose forward Juan Manuel Leguizamón is fit again, as is first-choice first five-eighths Juan Martín Hernández, who missed a week with a groin injury.
It is Hernandez's second visit to New Zealand, the first as an under-21 player on his way to Australia. "We were in Auckland for a week, but I don't really remember much," he said.
He does, however, remember playing the All Blacks in Buenos Aires in 2006 and knows how hard the task will be.
"We are under no illusions as to how they will play. But we are confident that we will take another step forward and be up to the challenge, which is huge."
If anything, this Pumas squad, led by Juan Fernández Lobbe, exudes confidence. They are a better-conditioned team because of a tough fitness programme, run by former Thames Valley player and Bay of Plenty and Waikato strength and conditioning expert Fathers - who has come to the Pumas as a consultant through US franchise Athletes' Performance.
His work has given the team the ability to stay in the game for longer, in the knowledge that their preparation will pay off. In last year's World Cup quarter-final against the All Blacks, they were in it for 59 minutes. Maybe this time it will be longer.
"We feel really good," said a delighted Fernández Lobbe. "We are enjoying this so much, the opportunity to test and challenge ourselves against the best in the world is unique. We have worked very hard for this opportunity. It is about getting better each week, about the process. If that is right, then we will be able to take wins when they come."