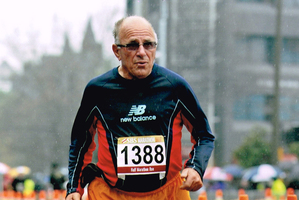 Christchurch's Fred Cooper is not the sort of man who lives in the past.
The 74-years-young runner, who is a long retired mechanic and retailer, is winding back the clock when he takes on the Arthur Half Marathon in The Legend Run in two weeks.
It will be the realisation of a long-held goal.
"When I finish on the 15th it will be another one off the bucket list," said the larger-than-life veteran who played soccer, rugby and rugby league as a teenager and represented Taranaki at league.
Cooper's history with running is a long and winding road much like the course over the Waitakeres he is running in two weeks "for old times' sake".
"I have entered The Legend out of nostalgia as those are the streets we trained on when we were young."
He joined the RNZAF in 1958 and met Ralph King who talked him into running for Lynndale.
He was posted to Singapore and ran for Singapore in the first Malaysian Games and held the Singapore mile record.
"I returned to New Zealand but there was not much future in middle distance with Mr Snell and co around so had a serious go at road running and ran in the very successful Lynndale team in the mid-60s and represented Auckland occasionally."
Cooper left the air force in 1965 and with a young family only took part in social sports.
Fast forward to September 2012 and Cooper is back running.
"I took up running again just prior to my 70th birthday just to see if I could as I was getting a bit tubby and bored with playing golf, and have since run six half marathons and am enjoying life as a member of the Port Hills Athletic Club."
Cooper said The Legend has been hard to train for as there was nothing like the terrain back home.
"I expect the course to be rather more testing than any in the Canterbury region but it will hold plenty of interest."
His attempt of the 21km run will come almost 50 years after his crowning moment as a runner. He won the Owairaka Marathon in 1964 in 2 hours 31 minutes.
"I remember the day as cloudy and it got quite warm, after the race I drove to Helensville and played in the Kumeu band at the show, I still play in brass bands and together with running every day the running stops the body seizing up and the music keeps the brain going."
He has simple advice for old-timers looking to stay active or get back into sport that they love.
"The older runners need to keep entering these events to show the younger athletes that life goes on and though we run at about half the speed we used to we can still enjoy it. Races such as The Legend make very good goals and any medals won make good coffin decorations."