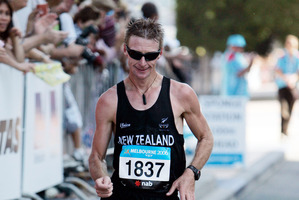 Craig Barrett is unfairly remembered for one of the heartbreak moments in New Zealand sport. The 40-year-old from Hamilton was leading the 50m walk with 1km to go at the 1998 Commonwealth Games in Malaysia until he collapsed in a heap because of dehydration. Four years later he earned redemption in Manchester when he claimed the silver medal in the same event. It was the highlight of his sporting career.
He retired in 2006 with an illustrious race walk career to look back on. Barrett holds four New Zealand records, over 20km, 30km, 50km and for the two hour walk.
His personal best time for the 50km walk was 3h 48m 4s in New Plymouth in June 2001 and he also raced in 3h 48m 14s at the 1999 World Race Walking Cup in Deauville Mezidon. Barrett won 32 New Zealand titles over various walking distances from 3000m on the track to 50km on the road. His first senior title was over 30km in Wellington in 1993 and his last was over 20km in Christchurch in 2006.
These days Barrett, who has an architecture practice in New Lynn, calls himself a "weekend warrior". He has signed up for the hardest marathon in the country in two weeks' time, The Legend, and is enjoying just being one of the pack.
What has inspired you to take part in The Legend?
I still enjoy keeping fit, so I pick out a couple of long distance or off-road events each year to give me a reason to keep on track with the training. I ran the New Plymouth Mountain to Surf Marathon back in April and wanted to do something else around spring/summer. Also, I used to regularly train over the Waitaks when I was doing my race walking training, being aware of the significance of the route as the stomping ground for Lydiard's athletes.
Will you run or walk it and what time do you have in mind?
I will run it, I haven't race walked since 2006. My best walking marathon time was 3:08, so that is my benchmark, and now that I am a part time trainer and a weekend warrior I always just try to run a time under this, and prepare so that I don't end up in a world of hurt. My best run time is 3:02 which isn't significantly faster. Having said this, I do live for the day when I can say I ran a marathon in two hours and something which has a bit more cred to it.
It is labelled as the "hardest marathon in NZ" - what do you know about the course?
It is part of New Zealand athletic folklore, the sort of training course that can level Peter Snell.You are, rather cruelly, remembered for collapsing in 1998 while leading the 50km walk, what are your memories of that day?It was an emotionally bizarre one: arriving well prepared and relaxed for the race, stamping my mark on the race and dominating my competitors, being out of control, regaining clarity of mind and body to realise that I hadn't won the bloody race, my parents concern, leaving the hospital, having people approach me who wouldn't normally, [former All Black captain and coach] Sir Brian Lochore for example.
With that in mind how satisfying was the silver medal you won in 2002?
I gave myself permission to be happy with the result. It was a fair reflection of my position in the Commonwealth. Four years earlier through my race results I had proved myself to be the best in the Commonwealth and I expected to win, whereas in Manchester I had Nathan Deakes as my opposition and he had consistently proved himself to be the best leading into the race.
How much are you training these days and what other events are you competing in?
I train four days a week. Over the past few years I have done the Round Taupo Cycle, Triple Peaks Challenge in the Hawkes Bay, off-road teams events.
What advice do you offer to people looking to get into the sport of race walking?
Go for it, there are good athletic and harrier clubs to join all throughout New Zealand.