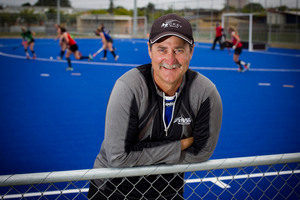 Much more than trophies will be at stake in this weekend's play-offs at the National Hockey League.
For the best of the rest - many Olympians opted out of the season's domestic showpiece - places in soon-to-be-named national squads are on the line as the women's K Cup and the men's Challenge Shield are contested at Lloyd Elsmore Park tomorrow.
There have been no confirmed retirements from either Black Sticks teams, but both selection panels are finalising squads which will be announced after the Ford NHL.
Women's coach Mark Hager has one particular focus for the 24-strong national squad.
In looking back at the women's ride in London, Hager pointed out that of the 12 goals scored, only two were from the field.
Pleased with a better than usual penalty corner conversion rate, Hager conceded that had been a factor in making it to the top four.
But the search for a goal-grabbing centre-forward remains a priority.
Cantabrian Olivia Merry could be just the striker Hager is looking for. A big part of Canterbury's outstanding seven-from-seven record through round-robin play, Merry has scored eight goals - more than any other player, male or female, in the league.
Like Merry, Midlands' Stacey MacDonald is not in the national or development squad, but with her seven-goal haul, which has helped book her team a place in this afternoon's semifinal with Auckland, she too might be in line for a call-up.
Black Sticks wounded warrior Katie Glynn, a player perhaps in the mould of what Hager is after, is next best with six goals for Auckland.
Unlike the men who have the Champions Trophy in Melbourne from December 1-9, the women's next major assignment isn't until the World Series, which New Zealand will join at the quarter-finals stage in June.
International Matt L'Huillier (Capital) leads the men's goal-scoring race with seven. Nick Wilson (Central) has six and Southern's Kane Russell five. L'Huillier and Russell, who will square off in today's 1st v 4th semifinal, are drag flick exponents.
Wilson will have a chance to add to his tally when Central play Canterbury in their bottom four clash.
Today's semifinals should be close, with the Canterbury women favourites to win the K Cup for the first time since 2002. Leading the goalscoring with 25, they have also been the most miserly on defence with just six conceded.
The Auckland men, after winning three games straight and scoring 16 goals, slipped to lose two of their next four and draw against Central.
The James Grant-coached hosts will need a return to their better form as they attempt to reverse a 3-0 loss to North Harbour in round four.