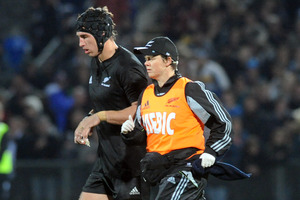 Only a small scar hints at the troubles Anthony Boric has endured this season.
He moves without any problems and is only a few kilos shy of his usual 115kg playing weight.
However Boric is months away from getting a clearance to play for the Blues in next year's Super 15.
"I want him, that's an easy decision and think he will be ready for the first game next year," coach John Kirwan said.
"But we have to wait for these things to be sorted out between the NZRU and the Blues."
Boric had neck surgery a fortnight ago to fix problems with a bulging disc around his C5 and C6 vertebrae.
Like most who have neck problems, Boric hoped it would settle with time. There was some relief but the lock could not play rugby.
The 28-year-old's last game was against the Bulls in early March.
Since then it has been rest, therapy, physio and hope until he went under the knife last month.
"I would go through periods when it was fine and do some strength work and think it was coming right," he said.
"But then I would get a good whack on it and it would stir it up once more. It would be niggly then for weeks. It would feel like a stinger down my neck and then pins and needles down my hands."
Boric's first problem came in his second test against England in 2008.
"I made a tackle and jarred my neck and got this excruciating pain."
It flared up this year in a pre-season game then against the Bulls he was whacked in a ruck.
"I felt it pop. There were no nerve symptoms and I carried on playing. I guess that was pretty stupid but with the adrenalin it seemed okay.
"Afterwards it got stiff and I iced it and went to bed. But I woke up early with pins and needles in both hands and that's when I knew it was getting worse."
Boric was told surgery was the only way for him to resume a full playing career but he held out some hope that more time off might help.
He was dreading surgery but when he talked to a number of other rugby players such as Olo Brown and David Gibson who had similar treatment, his anxiety receded. Most noticed a huge benefit.
Instead of having fusion surgery Boric chose to have a disc replaced.
Two weeks after surgery, Boric is back on the bike in the gym, doing squats and exercising.
He wears a brace to help him sleep but otherwise he is functioning as normal.
Boric is doing it tough because he cannot play the sport he loves, his All Black career is stalled at 24 tests and his Super career is on hold.
However he is taking the view that this year out will prolong his career, that this mid-job lull will breathe new vigour into his occupation.
"The surgeon, Dr Geoff Coldham, is optimistic I will be back next year. He thinks it is a five- to six-month rehab process."
Boric wants to play for the Blues next year but does not know if that is possible.
Meanwhile, Kirwan ponders injuries and illness which have cut down Ali Williams and Kurtis Haiu while Liaki Moli and Andrew van der Heijden both suffered shoulder problems for Auckland this week in the ITM Cup.